CAMPAIGN 2012
Get complete Arizona election results on cbs5az.com
Posted:
Updated: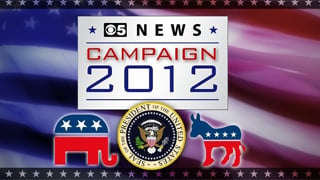 © Arizona election results
PHOENIX (CBS5) -
Arizona election results in hotly contested races as well as Arizona ballot measure results will be available on cbs5az.com after polls close on Tuesday at 7 p.m. MST.
2012 presidential election returns will also be covered in-depth and prominently displayed with an interactive map.
Cbs5az.com and CBS 5 News brings you complete coverage, from stories, to photos, to live streaming video and much more.
In the Arizona election, one of the more contentious races is for the U.S. Senate seat of retiring Sen. Jon Kyl.
In a tight race, six-term Republican Rep. Jeff Flake ran an ad in which an ex-boss of his challenger, Democrat Richard Carmona, says he has personality shortcomings related to anger, ethics and women. Carmona countered Flake's ad, presenting favorable testimonials both on-air and in-person from women whom he's worked with and for.
Carmona, former surgeon general under President George W. Bush, denied the former boss' years-old accusation that he went to her home at night and angrily pounded on her door. Flake's campaign responded by releasing a statement in which a former colleague of the ex-boss vouches for her honesty.
In another closely watched race, the contest for Maricopa County sheriff pits Republican incumbent Joe Arpaio against Democrat Paul Penzone. Penzone has accused Arpaio's office of financial mismanagement and leveled criticism at the office for either inadequately investigating or not investigating at all hundreds of sex-crimes cases.
Arpaio refused calls from critics to resign because of the botched the sex-crimes investigations and allegations that his office racially profiles Latinos.
In one of the state's most competitive congressional districts, Democrat Krysten Sinema is dueling against Republican Vernon Parker in Legislative District 9, which includes parts of Phoenix, Tempe, Mesa, Chandler, Paradise Valley and Scottsdale.
Arizona election coverage focuses on voters in Glendale, who have a big decision to make on Tuesday. Proposition 457 is taking aim at a temporary sales tax increase meant to balance the city's budget. If the initiative fails, the increase will remain in place. If it's approved, the increase would be repealed, and the city warns it would be forced to make $25 million in budget cuts.
Nine other ballot initiatives and legislative referendum measures are on the 2012 election ballot:
Proposition 114: CRIME VICTIMS. The referendum would provide a new legal shield to crime victims. A crime victim would not be liable for damages suffered by a person engaged in a felony or fleeing from a situation involving a felony.
Proposition 115: PICKING JUDGES. The referendum would give governors more say over judicial appointments. The governor would generally get at least eight nominations for each appointment, up from at least three now. Also, her appointments of attorney members of the nominating commission would not have to come off a list of lawyers recommended by the State Bar of Arizona.
Proposition 116: BUSINESS EQUIPMENT TAX. The referendum would provide tax savings for smaller businesses. The exemption on value of equipment and machinery subject to property tax would increase from the current inflation-adjusted amount of $68,079 to $2.4 million for newly acquired equipment and machinery.
Proposition 117: PROPERTY TAX. The referendum would impose a cap on property tax increases. Increases could not exceed 5 percent over the value for the previous year, beginning with the 2015 tax year.
Proposition 118: EDUCATION FUNDING. The referendum would set a minimum amount for funding for schools and other designated beneficiaries of income from the state trust land fund for the next nine fiscal years. There is currently no minimum requirement on using the fund's income.
Proposition 119: TRUST LAND SWAPS. The referendum would allow swaps of state trust land under certain conditions. Trust land could be exchanged with other public land in Arizona to protect military installations from encroaching development or to convert trust land to public use.
Proposition 120: STATE SOVEREIGNTY. The referendum would have Arizona declare that the state has exclusive authority over all land within its borders. American Indian reservations and military bases would be exempt.
Proposition 121: PRIMARY ELECTION. The initiative would revamp the state's primary election system. The two top finishers in the primary election would advance to the general election regardless of party affiliation. And voters, regardless of party affiliation, could vote for any candidate.
Proposition 204. SALES TAX INCREASE. The initiative would replace a penny-on-the-dollar temporary sales tax increase set to expire in mid-2013 with a permanent increase of the same size. Revenue would have to be used for education, construction projects and social services.
Copyright 2012 CBS 5 (Meredith Corporation). All rights reserved.