UPDATE
PD: Mesa dad shoots, kills man beating up his son
Posted:
Updated: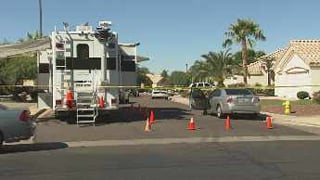 Mesa shooting scene
MESA, AZ (CBS5) -
A Mesa father is suspected of fatally shooting a man who was beating up his son, police said.
A fight broke out in the front yard of the home about 5:30 a.m. Monday, according to Detective Steve Berry of the City of Mesa Police Department.
Berry said a car carrying three people pulled up in front of a home near 72nd Street and Lakeview. A shot time later, the homeowner came out of the house to see his son being attacked and fired a weapon at the person beating up his son, Berry said.
Others involved took the victim to a hospital, where he was pronounced dead.
The names of the people involved haven't been released, but police said the son knew the attacker.
Police said it's still unclear what led to the fight and if any charges will be filed in the case pending an investigation.
The man's son suffered cuts and abrasions and will be OK, Berry said.
"A lot of moving parts with this one and investigators are just getting into it," Berry said.
No further details were immediately available.
Stay with cbs5az.com and CBS 5 News for updates on this developing story.
Copyright 2012 CBS 5 (Meredith Corporation). All rights reserved.