New AZ poll: Dead heat in presidential race; Latino vote key
Posted:
Updated: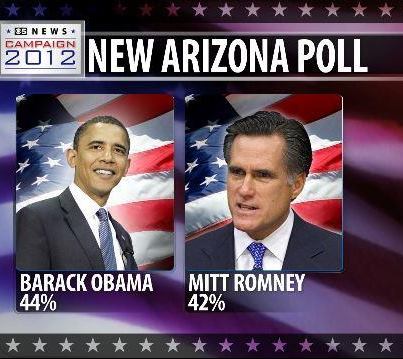 © CBS 5
PHOENIX (CBS5) -
In the race for the White House, a new poll shows Pres. Barack Obama and Mitt Romney are in a dead heat in Arizona.
The Rocky Mountain Poll released Saturday shows it's also neck and neck for the U.S. Senate, and for the first time in a long time, Arizona is looking more like a battleground state.
The poll, which is one of the first to include Spanish speakers, shows because the race is so tight, it could all come down to that group of voters.
"There's no better time. This is it," said political consultant, Christina Martinez. "We don't have another four years to wait."
Martinez has been working to help register Latino voters and says this election will see 50 percent more of them across the nation than there were four years ago.
"I think the people that are going to make or break this race are Hispanics," said Martinez.
Earl De Berge agrees. He's the research director for the poll and says the numbers show Arizona as a battleground state where it could change from red to blue.
"Arizona has for many years been a Republican stronghold in presidential races. But in recent years, with the shift of voters to the columns of the independents, and particularly this year with the intensity of interest among Democrats, there's a good chance this state can become a swing state and go either way," said De Berge.
He says much is being made of the Latino vote, which can make a dramatic difference in next month's election.
Martinez adds both campaigns have been trying to win the Hispanic vote. "They're courting us because they know we're the super majority here," she said.
Saturday's poll also shows Latino voters favor Obama 77 percent to Romney's 10 percent.
"The real issue is whether or not they're going to step up and participate in the numbers that they represent in the voting population. In the past, they haven't done that," said De Berge.
Martinez says the Latino voter is ready. "We're putting a lot of blood, sweat and tears into this race, and I think you're going to see us show up."
De Berge cautions the data from polls is good for the time it is collected, which can change in an instant. He says this is the most fluid last month before an election Arizona has seen in a long time, as candidates numbers shrink and swell from week to week.
Copyright KPHO CBS 5 (Meredith Corporation). All rights reserved.