SRP holds picnic for candidates
Posted:
Updated: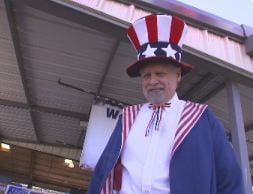 TEMPE, AZ (CBS5) -
It's one of the largest companies in Arizona and since Election Day is less than a month away, the Salt River Project said they like to keep their employees well informed.
Since 1988, SRP has sponsored a bipartisan picnic for political candidates called SRP PIC's 2012 Political Picnic.
Saturday it was held in Tempe at SRP's PERA Club from 11 a.m. to 2 p.m.
Approximately 700 employees and their guests turned out.
"I just came out to see which one of the candidates were going to come out and hear some of the speeches," said Laverne Steah.
"Have fun, eat with them, talk to them as much as we want, stuff like that. I think it's a good opportunity," said Jackson Turner.
Several candidates for the Arizona Legislature, the Arizona Corporation Commission and the Central Arizona Water Conservation District and other county and municipal offices attended, according to SRP.
Two of those candidates were from one of the state's most heated races for retiring U.S. Sen. Jon Kyl's seat in District 6.
Rep. Jeff Flake and Richard Carmona shook hands and spoke with voters face-to-face under the same roof, campaigning for that seat.
Candidates were given an opportunity to make a brief speech, food was served and there was music and games for children.
Some of the entertainment included clowns, a rock wall, Uncle Sam on stilts and a man dressed up like a cowboy singing traditional songs while sitting on a horse.
We asked both Flake and Carmona about the negative ads their campaigns have launched.
"Nobody likes to see these negative ads. We would all love to run positive ads all of the time, but when you opponent runs negative ads you feel like you have to respond to it," Flake said.
We also asked Carmona about the ads.
"This is my first campaign. I am very unhappy with these negative ads. I reached out to Congressman Flake when he won his primary and I sent him a letter and said why don't you and I do this differently," he said. Carmona went on to say, "He [Flake] refused."
The voters will have the final say in November.
Copyright 2012 CBS 5 (Meredith Corporation). All rights reserved.