Arpaio ad accuses challenger of abusing wife
Posted:
Updated: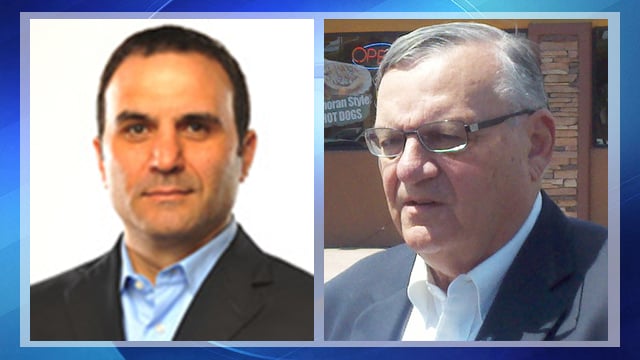 Paul Penzone, left, and Maricopa County Sheriff Joe Arpaio
PHOENIX (CBS5/AP) -
Maricopa County Sheriff Joe Arpaio has launched a TV commercial that accuses his Democratic rival Paul Penzone of abusing his wife in a 2003 domestic dispute.
Penzone vigorously denies the allegation.
In a report obtained by CBS 5 News, Penzone and his then-wife argued over a visitation issue with his son.
The ad reiterates allegations made by Penzone's then-estranged wife that Penzone had caused her to hit her forehead in March 2003 by pushing her on a doorway.
Penzone said it was his wife who hit him in the head during the dispute with a hockey stick.
No charges were ever filed.
Penzone told CBS 5 News the fact that he was never charged and that he released the information about the incident before it was discovered should speak volumes.
"He (Arpaio) should have been as zealous about investigating crimes pertaining to sex crimes against children as he is about attacking his opponents," Penzone said in a CBS 5 interview.
Penzone said he doesn't plan on releasing an ad in retaliation to this one. Instead, he said he will let the general public decide who to believe.
"The real Joe is out there. Now he's come back around. The cuddly side is gone now."
Arpaio's campaign staff sent CBS 5 News this response to the ad against Penzone. It reads, in part:
"The re-elect Joe Arpaio 2012 campaign firmly stands by their latest ad informing voters about candidate Paul Penzone's history of domestic violence.
"The ad is based in fact and references the exact words from his ex-wife during the altercation.
"Sheriff Arpaio has been running positive ads about his record and his policies and had intended to continue doing so.
"However, both the Penzone campaign and its allies have been running vicious and distorted personal attack ads against the sheriff for months now.
"The voters of Maricopa County deserve to know about the candidates they will choose from."
Earlier in the campaign, Penzone ran a commercial that accused Arpaio's office of refusing to investigate the molestation of a 6-year-old and tried to cast doubt about Arpaio's reputation for being tough on crime.
Copyright 2012 CBS 5 (Meredith Corporation). All rights reserved. The Associated Press contributed to this report.