Valley studio shows couples how to make their own wedding rings
Posted:
Updated: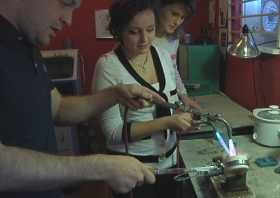 PHOENIX (CBS5) -
A Phoenix studio is teaching people how to make their own wedding rings.
At Harold Studio, Johanna Ingram will not only help customers design their own rings, they will actually make the rings themselves.
We caught up with newlyweds, Kevin and Kristen Gluch, who were making their own wedding rings. They said their friends didn't even know there was a place that offered the service.
"They just didn't know it existed. It's a new thing. They just didn't know it was an option," said Kristen.
Once the Gluchs decided on the type of metal they preferred and the style, they went to work.
"Melting down metal and pouring it into an ingot and rolling it out to the thickness they want their bands to be and the width and the correct size," said Ingram.
The process takes about four hours.
The cost of two rings starts around $995. But the price varies depending on the metal chosen and the complexity of the rings.
Customers can also bring in other pieces of jewelry if they would like to melt the metal and make new rings.
Copyright 2012 CBS 5 (Meredith Corporation). All rights reserved.