Tempe officer rescues couple from burning home
Posted:
Updated: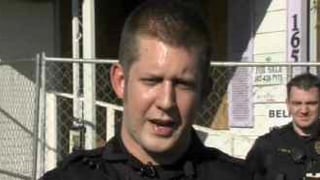 Tempe Police Officer Paul Elenius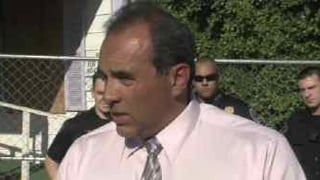 Assistant Chief John Valenzuela of the Tempe Fire Department
TEMPE, AZ (CBS5) -
A Tempe police officer is credited with saving the lives of a Temple couple in their early 70s who were trapped inside their burning mobile home.
Officer Paul Elenius, a five-year police veteran, kicked down the door and entered the smoke-filled home twice to pull the occupants to safety.
Dispatchers received a desperate call Sunday about 10:30 p.m. from one of the people inside the home who said they "could not get out, could not open the door and could not breathe," according to a police statement.
Neighbors had tried to break out the windows and a second door to get to the victims inside, to no avail.
When Elenius arrived, he went around to the back door, which was blocked with a table and other storage items, and kicked it down.
"Heavy smoke was rolling out at the time," he said at a news briefing on Tuesday. "I was unable to see anything inside the residence. Suddenly, I saw a hand and arm reaching out in front of me."
Elenius forcibly shoved the items out of the way and went into the home, where he found a 71-year-old woman lying on the floor. He carried the victim to a safe distance and went back inside the home to rescue her husband.
"I was able to see an elderly gentleman on all fours attempting to crawl out through the open door," Elenius said. "I was able to give him assistance. At about that time, my fellow officers showed up and were able to assist me in getting him down to the street."
Elenius said the pair had made it to the front door, but were blocked from leaving by debris.
Firefighters from Tempe, Guadalupe and Phoenix helped fight the blaze and protect the other structures in the neighborhood.
Fire medics treated both victims for smoke inhalation and took them to the hospital. Elenius also was treated at the hospital for smoke inhalation and released.
Assistant Chief John Valenzuela of the Tempe Fire Department said it was a rapidly growing fire.
"The products of combustion were under pressure when he kicked the door in. The radiant heat and toxic chemicals blew out under pressure. The victims inside had literally seconds and had Officer Elenius not gone in there, I don't think our outcome would be as positive as it is now."
The cause of the fire appears to be accidental but remains under investigation by Tempe Fire Department.
Copyright 2012 CBS 5 (Meredith Corporation). All rights reserved.