Tests show odometers inaccurate regardless of make, model
Posted:
Updated: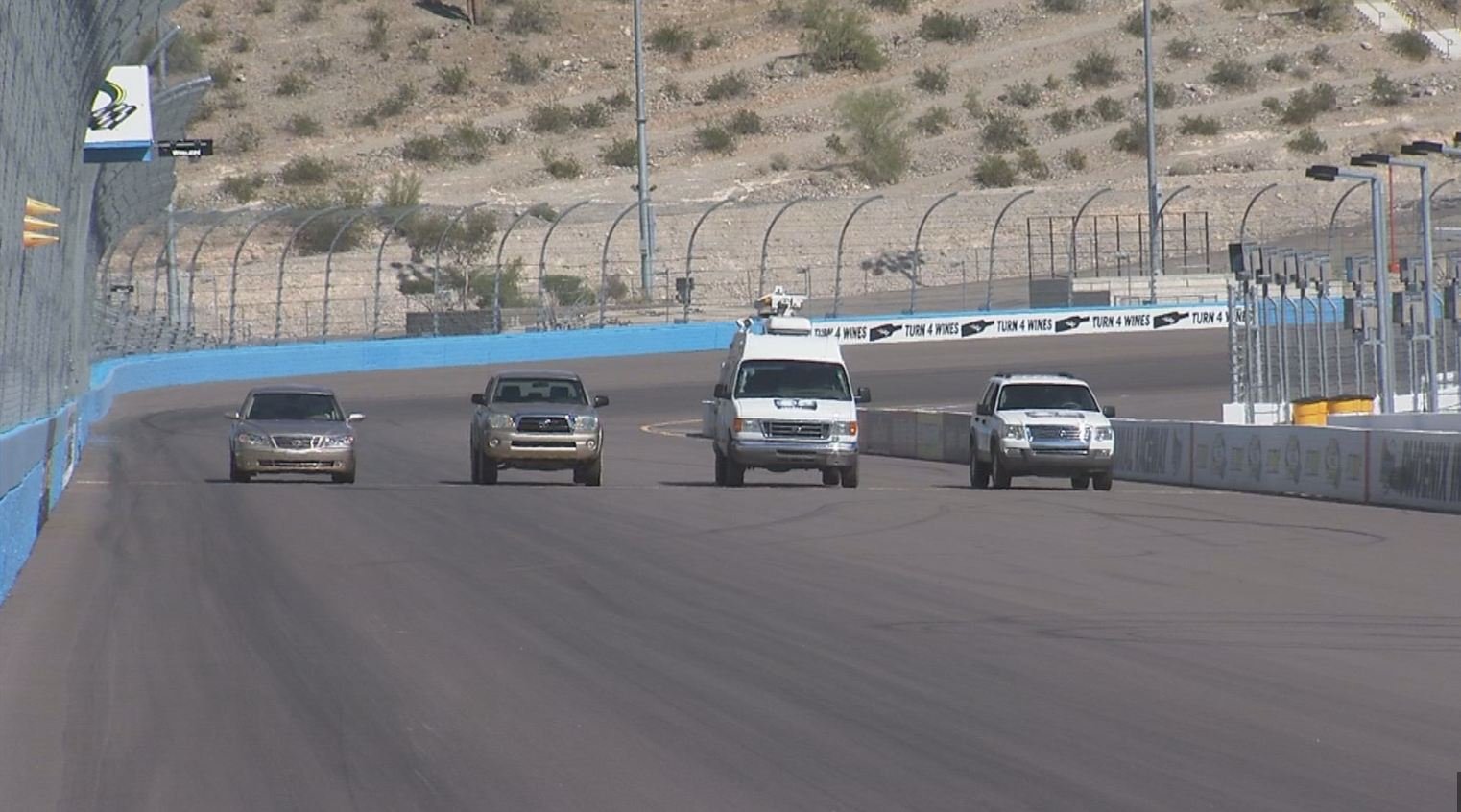 Four vehicles were tested.
PHOENIX (CBS5) -
Odometers are an often overlooked but important component of your vehicle. They help determine a car's worth, but a CBS 5 investigation found they do not have to be perfectly accurate.
We measured out one mile at the Phoenix International Raceway, lined up four vehicles, reset their odometers and then drove them until they registered one mile. The vehicles that were tested include a 2006 Ford Explorer, a 2007 Ford Econoline, a 2007 Toyota Tundra and a 2007 Hyundai Azera.
Because the track is oval, and in order reduce error, we drove each test vehicle over the same measured line, which was in the middle of the track.

No vehicle perfectly registered one mile. The Ford Explorer logged 193 feet less than one mile. The Econoline, Tundra and Azera each overshot one mile by 83 feet, 16 1/2 feet and 55 feet, respectively.
"Your odometer is very important when factoring in your car's worth, because mileage is important," said Jack Nerad, the executive editorial editor at Kelley Blue Book, a car resource and review company.
Nerad said, however, that there are no federal laws that require manufacturers to ensure odometers are accurate. Rather, there are simply guidelines by the Society of Automotive Engineers (SAE) manufacturers may follow that call for a margin of error of 4 percent.
"There are rules on odometers, and there are SAE rules and federal regulations and rules as well. Those have to be accurate within a certain level of tolerance," explained Nerad.
But in a state like Arizona, where many people own and drive modified cars, SUVs and trucks, what do oversized tires or rims do to odometer accuracy?
"The oversized tire, that obviously slows things down. There is more rubber distance traveling," said Frank Leutz, owner of Desert Car Care Center in Chandler.
"(There) could be up to 8 to 9 percent difference and over time that adds up. You do the math - 100,000 miles. That's 8,000 to 9,000 miles. That could be a big difference," said Leutz.
The 2006 Ford Explorer, for example, was off by nearly 4 percent. It's in the recommended guidelines, but consider this: A roundtrip drive from Phoenix to Las Vegas is about 600 miles. If you owned this vehicle, you would be tacking on an extra 25 unregistered miles, just for that trip. Over the course of 150,000 miles, the car would have driven 6,000 extra miles, but its odometer would not show it. Experts say there are ways to check to see if your car's odometer is accurate. A certified mechanic would be able to diagnose the vehicle's computers and make adjustments. Such tests cost about $100 to $200.
Buyers looking for used cars should also perform common sense checks before purchasing a car that has low mileage.
"Look for signs of wear in the car. Look for wear on the floor mats. Wear on the upholstery. Even on the steering wheel and in the trunk. Wear indicates mileage," explained Nerad.
He said some cars, especially those with oversized tires, may have driven many more miles than what is actually shown.
Copyright 2012 CBS 5 (Meredith Corporation). All rights reserved.