Police: Vegas hoarder's home 'the worst we've seen'
Posted:
Updated: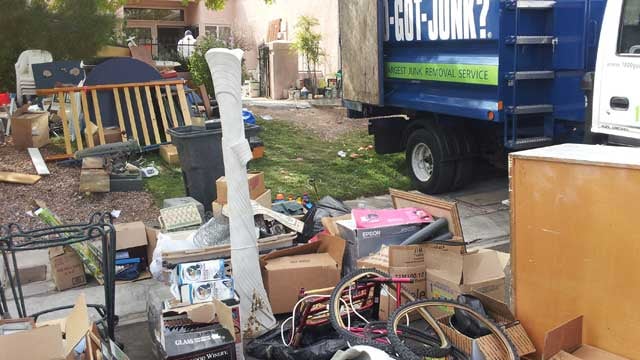 A cleanup crew with three trucks is tacking what Metro police called "the worst case of hoarding we ever seen." (Christian Cazares/FOX5)
LAS VEGAS (FOX5) -
Fans, newspapers and even a fixture covered in cat feces. These are just a few items that were displayed on the street as several cleanup workers unpacked Kenneth Epstein's home.
"It smells like something dead, like manure," said Senaida, neighbor who only wished to be identified by first name.
"I don't understand how someone could have so much stuff packed away," said another neighbor.
"The inside of the house is a complete disaster and it's basically deemed a public safety health hazard," said Councilman Stavros Anthony.
Cleanup crews were sent out to the duplex after multiple calls from neighbors were made to the city about the problem - like the excessive cockroaches.
"When I go outside to water the plants, they come out and start climbing the walls," added Senaida.
"They can't go inside of the house unless you have a hazardous material suit on with a mask. He brings all this stuff into the house and it rots. There was a refrigerator with meat that had liquefied," Anthony said.
Damaged furniture, some even covered in cat urine, were labeled as trash. Other items were put away in storage.
"Code Enforcement officials would come out and tell the individual what to do. A lot of times he would comply, sometimes he wouldn't, so they would give him a citation and then he would comply," Anthony said.
The problem continued. Once the house is emptied out, damaged walls will be taken down and a tent will go over the property for fumigation.
"We have to pay for the private company to come in and help us do this. We will put a lien on it and once the house is sold we will get our money back," Anthony said.
Copyright 2012 KVVU (KVVU Broadcasting Corporation). All rights reserved.