PD: Pimp, girlfriend arrested on child prostitution charges
Posted:
Updated: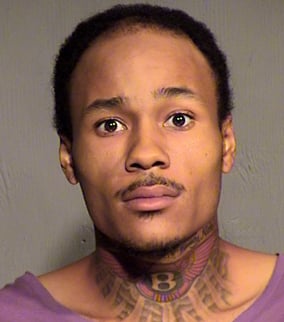 Deandre McCune
Brittany Vance
PHOENIX (CBS5) -
An alleged pimp and his girlfriend were arrested in Phoenix Friday on suspicion of child prostitution.
The alleged pimp, Deandre McCune, a registered sex offender out of Wisconsin, and Brittany Vance, of Atlanta, were taken into custody in a hotel room at the Traveler's Inn at 5102 W. Latham St. after staff notified police.
A 15-year-old runaway from California was also found in the room. The juvenile told police she met McCune and Vance through the internet and they invited her to travel to San Diego, where they engaged in prostitution during August 2012, using Backpage to advertise, officers said.
About three weeks ago, police said McCune transported the girl to Phoenix. McCune and Vance used the money the girl raised in her sex acts for food, rent and transportation, police said.
Police said McCune met another girl, Gabrielle Gonzales, of California, on an internet dating site and purchased a bus ticket for her travel to Arizona to engage in prostitution.
None of the alleged prostitutes received any of their earnings, according to officers. Gonzales told police she made about $1,000 during 20 of her alleged sex acts.
When patrol officers called the phone number on Gonzales' ad, a phone that McCune was holding began to ring, according to the police report.
Gonzales and the teen runaway each identified the online ads that had been placed for the alleged prostitution, officers said.
Copyright 2012 CBS 5 (Meredith Corporation). All rights reserved.