UPDATE
Family, friends remember border patrol agent Ivie
Posted:
Updated: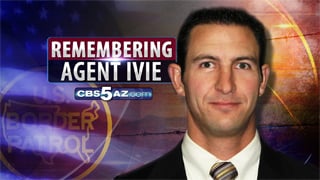 © CBS 5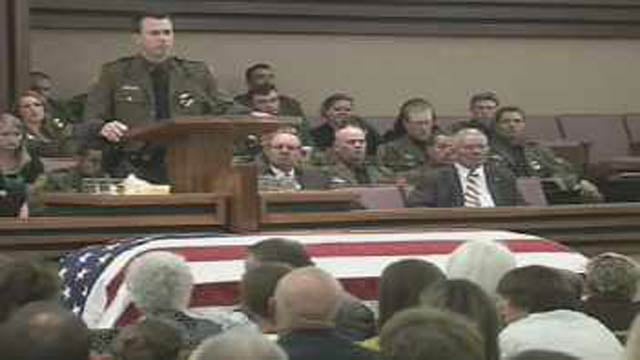 Nick's brother, Joel, speaking at the service.
SIERRA VISTA, AZ (CBS5) -
A U.S. Border Patrol agent killed in the line of duty was memorialized Monday morning at the Church of Jesus Christ of Latter Day Saint in Sierra Vista, AZ.
Agent Nicholas Ivie was killed last week about five miles north of the U.S. - Mexico border in what the FBI is calling a case of friendly fire.
Ivie and two other agents were responding to a sensor alarm aimed at detecting smugglers crossing into the U.S. The FBI said it appears the agents fired at each other, killing Ivie and wounded another agent.
During his funeral Monday, friends and family remembered Ivie as a loving father who was active in his Mormon church and dedicated to his profession.
One of Ivie's closest friends, Aaron Kerr, who was also a neighbor and fellow agent, fought back tears as he shared stories about the man he said lived a life of quiet dignity.
"Nick loves his two precious daughters. That love was on full display for everyone in the neighborhood to see as he was daily outside with the children," Kerr said. He went on to say, "No child has ever been blessed with as loving a father. He is an example, to every man, of the joy that comes from righteous fatherhood."
The husband and father of two young girls was just three weeks shy of his 31st birthday.
He was remembered as a humble, loyal, thoughtful man who went out of his way to help others, as a paramedic, firefighter and border patrol agent.
Born in South Carolina, Ivie grew up in Provo, UT.
He went on a mission to Mexico City when he was 19 years old.
He loved horses and trucks. His hunting made him a skilled and determined tracker.
His older brother, Joel Ivie, carpooled with him as they both worked mounted patrol out of the Naco substation.
Joel Ivie shared stories of how his brother was a patient and determined agent, how he showed compassion, caring for illegal immigrants they found in distress in the desert, and how everyone wanted to work with him.
"Nick was always found doing things for people without being asked, just going out, washing cars, something nice for them without expecting anything in return and he didn't care if they knew who it is," Joel Ivie said.
Joel Ivie said Nick dedicated himself to a life of service.
"He was a paramedic, firefighter, a Border Patrol agent and also a truck driver," Joel Ivie said.
His brother spoke of his love of horses and trucks and remembered Nick Ivie as a man of true faith.
"If Nick were here he'd say, 'Guys, I'm taken care of. Just take care of my girls my wife and my family. Cowboy up! Get on with things. Put your arms around each other and continue the unity that we have here,'" Joel Ivie said.
Nick Ivie was the youngest of five children.
He had been with the border patrol for four years.
National Border Patrol Council president George McCubbin said Nick Ivie apparently shot first, accidentally wounding another agent before being killed in return fire. An investigation is ongoing.
The family is holding another service on the UVU campus Tuesday morning to accommodate family, friends and law enforcement who couldn't make it for Monday's service.
Copyright 2012 CBS 5 (Meredith Corporation). All rights reserved.