Brewer stands by her criticism in wake of border shootings
Posted:
Updated: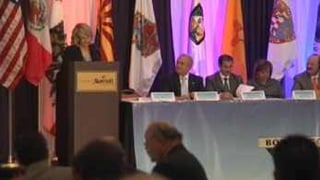 Gov. Brewer in Albuquerque
ALBUQUERQUE, NM (AP) -
Arizona Gov. Jan Brewer is standing by the criticism she leveled earlier this week in response to the shooting that left a border patrol agent dead.
Brewer earlier said a political stalemate and the federal government's failures have left the border unsecured and Border Patrol agents in harm's way.
The FBI said a preliminary investigation has found friendly fire is likely to blame.
At a gathering of border governors in Albuquerque on Friday, Brewer said it was the federal government's responsibly to secure the border.
Brewer joined New Mexico Gov. Susana Martinez and governors from Mexican states. Their meetings touched on everything from economic partnerships and health care to the border violence.
Brewer said that there might be a geographical border between the states, but that shouldn't keep elected officials from working toward prosperity for people on both sides.
Brewer, Martinez and representatives from Texas noted the billions of dollars in exports that move from their states to Mexico each year.
Martinez said the border region represents one quarter of the nation's gross domestic product and the time is now to develop new strategies for improving communication, transportation and infrastructure along the U.S-Mexico border.
The Mexican states of Chihuahua, Baja California and Sonora were represented.
Brewer plans to attend a memorial service for Border Patrol Agent Nicolas Ivie on Monday in Sierra Vista.
Also Friday, Homeland Security Secretary Janet Napolitano traveled to Arizona to express her condolences to Ivie's family and meet with authorities.
Copyright 2012 Associated Press. All rights reserved.