Funeral for slain border patrol agent set for Monday
Posted:
Updated: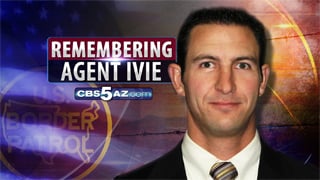 Nicholas Ivie
SIERRA VISTA, AZ (CBS5/AP) -
U.S. Border Patrol agent Nicholas Ivie, who was shot and killed early Tuesday morning while on patrol, will be laid to rest Monday.
The funeral is scheduled for 10 a.m. at The Church of Jesus Christ of Latter-day Saints meetinghouse in Sierra Vista at 2100 Yaqui Street.
The church spokesman, Kevin R. Goates, said, "Anyone desiring to attend the service is welcome. Due to a possible overflow situation, two additional meetinghouses in Sierra Vista will broadcast the funeral via closed circuit television. We will also broadcast funeral services to Bisbee and Douglas meetinghouses to minimize travel time for Border Patrol agents who wish to attend from those locations."
Goates said Ivie was an active member of The Church of Jesus Christ of Latter-day Saints all his life. He served a two-year mission to Mexico, where he learned Spanish, and less than two months ago was called to serve as Second Counselor in the Bishopric of the Sierra Vista 2nd Ward.
A funeral will also be held at 11 a.m. MDT Thursday at Utah Valley University in Orem, Utah.
Authorities are investigating if Ivie was accidentally shot by another agent.
Copyright 2012 Associated Press. All rights reserved. CBS 5 (Meredith Corporation) contributed to this report.