Gov. Brewer at Border Governors' Conference; security top issue
Posted:
Updated:
Gov. Brewer arrives at the Border Governors' Conference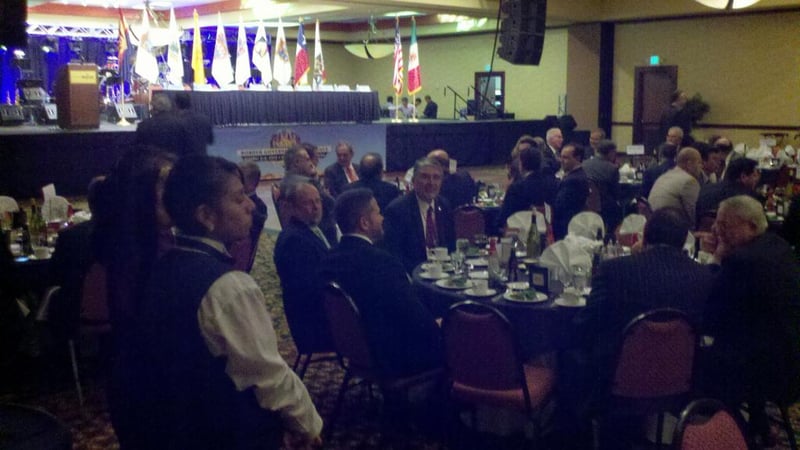 Inside the ballroom for the opening ceremony.
ALBUQUERQUE, NM (CBS5) -
Just two days after Border Patrol Agent Nick Ivie was gunned down early Tuesday morning in Naco, AZ, Gov. Jan Brewer is attending the 30th annual Border Governors' Conference in Albuquerque, NM.
The tragedy unfortunately makes the conference all the more timely. Nine governors or representatives from the four United States and six Mexican border states are attending the conference. California did not send a representative.
CBS 5 spoke exclusively with Brewer as she arrived at the conference. She said border security and safety are two topics she will bring up at the conference, especially in light of Ivie's death.
"You know I think that (border governors) are as concerned as we are concerned about that tragedy that we have faced once again in the state of Arizona," said Brewer.
Minutes before meeting with CBS 5, Brewer said she was talking with Ivie's wife and family.
"(Agent Ivie's wife) and her family and her children are in our prayers," said Brewer. "It was a terrible, terrible thing to endure at such a young time in their lives. To me, it's very very sad," she continued.
Border safety and security are not the only topic that will be discussed. Ways to improve the economy between border states will also be a hot topic.
"We comprise approximately 25 percent of each of our nation's gross domestic product," said Susana Martinez, the Governor of New Mexico during opening statements at the conference.
The conference officially began around 7 p.m. The governors and their representatives will meet in closed-door meetings starting tomorrow at 10 a.m. CBS 5 will be at the conference, and will have updates after it wraps up.
Copyright 2012
CBS 5
(Meredith Corporation). All rights reserved.