Teen charged for shooting disabled man in struggle for his $40 payday
Posted:
Updated: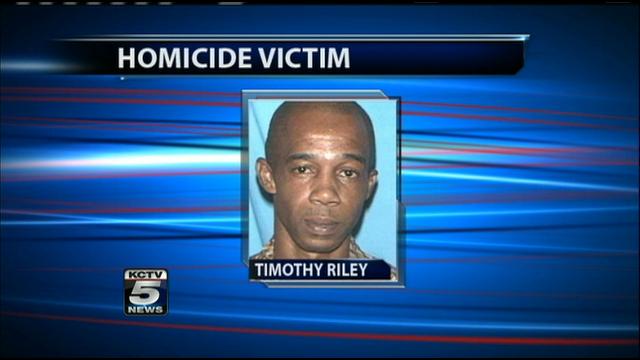 Landrain D. Miller
KANSAS CITY, MO (KCTV) -
A 17-year-old has been charged with gunning down a disabled man because of the $40 he had just gotten paid for work at a Kansas City day care, the Jackson County prosecutor said.
Landrain D. Miller, faces charges of second-degree murder and armed criminal action.
According to court records, Miller told a witness he had robbed someone on South Benton Avenue earlier on Sept. 26. When the victim fought back, Miller told the witness he shot him.
A weapon later purchased from Miller was determined to be the weapon that fired the shot that killed Timothy "Tim" Riley. Miller stated to police he became involved in a physical altercation with Riley and shot him, then took some money from his pockets.
Now that someone has been caught and charges, Tim's family, said they are relieved and their next step is to work through their anger.
"Really, really bitter and really, really hurting, but I find myself not being able to hate and I had to let it go," Joyce Riley, Tim's grandmother, said. "He's (Miller) not off the hook, but I don't feel so trouble against him, toward him."
Tim's family put up their Christmas decorations yearly this year to try and bring some light to their lives and to commemorate him because he loved the holiday so much.
"Tim has a place in everybody's heart and he always had," Joyce Riley, said the day after the shooting. "We're just asking them please, please come forward because today it was my grandson, tomorrow it might be your mother or your uncle or your daddy or somebody that you really, really love, just like we love Timmy."
Tim, 38, could only read on a first-grade level and couldn't follow detailed instructions. This limited his employment opportunities, but not his desire to work with his hands, work hard and accomplish tasks. He performed odd jobs for neighbors, mowing grass and picking up litter. Despite his limitations, he strove for independence, riding the city bus and walking around his hometown.

He worked once a week cleaning at Kings Kids Christian Childcare at 74th Street and Troost Avenue.
"He loved kids and kids loved him because they always thought he was a big old toy," his grandmother said.

Tim was paid $40 when he got off work on Sept. 26. He got on a bus and got off at 39th and Troost. He walked to 41st Street and South Benton Boulevard. At first his family didn't know why he went to the area, but later found out he was planning to visit some cousins.
"Timmy did not understand that the world is a monster," his aunt, Rachel Riley, said. "Knowing the dangers out there and when someone comes to you, you're suppose to give it to them because your life is more important. I don't think he had that concept. His concept was that's my money and you're not going to take it."
Tim fought his assailant who in turn shot him in the stomach. None of the witnesses recognized the killer, describing him as in his 20s, 5'10" to 6' tall with a slender build and dark skin.
Lynette Marshall and her two sons saw the struggle and watched in horror as the suspect looked at them, pulled the gun and then shot Tim in his side.

One of those rushing to a mortally wounded Tim's side was Marshall who held his hand and tried to comfort him.
"We told him that he wasn't going to be there by himself, we told him to hold on," Marshall said.
With his dying breaths, Tim described his astonishment, pain and fear to the good Samaritans.
"He's telling (the suspect), 'Why are you doing this to me. I don't have nothing,'" Marshall said.
The suspect yanked the $40 from Tim's pocket and then ran off.
"I've never seen him before," the woman said.
Rachel Riley and the other family members are grateful to Marshall and her sons. They hope others will have compassion for them in their time of loss.
"We're begging and asking those who have information to please come forward," Rachel Riley said in the days following Tim's death.
"That person murdered my son," Tim's mother, Wilma Winters, said. "I would like them to turn themselves in."
"Say enough is enough and we start turning these people in," Joyce Riley said. "They're like little rats, once they do this they run in their hole and hide. And we need to stop them."
An anonymous donor added $5,000 to the reward fund. CrimeStoppers said they would pay $6,000 for information leading to an arrest in this case.
Prosecutors asked for Miller's bond to be set at $150,000 cash only.
Click here for previous coverage on this story.

Copyright 2012 KCTV (Meredith Corp.) All rights reserved.