UPDATE
Reactions to agent's death: Grief and 'secure the border'
Posted:
Updated: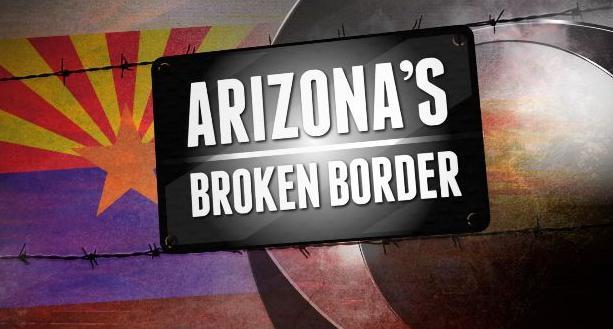 PHOENIX (CBS5) -
Prominent Arizonans expressed grief and a continued urgency to secure Arizona's border with Mexico after the death of a Border Patrol agent early Tuesday.
"Today's shooting of two U.S. Border Patrol agents near Naco, AZ, is a tragic reminder of the dangers faced by the brave men and women who patrol our borders and keep our nation safe. It is also a graphic reminder of the inherent dangers that threaten the safety of those who live and work near the border. It's a stark reminder of the armed criminals who roam the border seeking to do harm to those who cross their paths.
"The family of slain Border Patrol Agent Brian Terry extends its heartfelt prayers and condolences to family of the Border Patrol agent who lost his life and to the family of the agent who was shot and has been hospitalized.
"We hope that those responsible for this shooting are brought to justice swiftly. The fact that the agents involved in this shooting were assigned to the recently dedicated Brian A. Terry Border Patrol Station in Naco, AZ, gives us pause to reflect on the life lost and the continued task of keeping our nation safe."
- Robert Heyer, cousin of slain Border Patrol Agent Brian Terry and chairman of the Brian Terry Foundation
"Early this morning, agents from the U.S. Border Patrol were involved in a shooting near Naco, Arizona. Initial reports indicate that one agent was killed and another seriously injured. While the investigation is still in its early stages, today's events are a tragic reminder of the threats that Border Patrol agents face every day in the line of duty. Our thoughts and prayers are with these agents, their families, and all those in the Border Patrol community."
- Sen. John McCain
"Arizona has lost another Border Patrol agent.
"In the dark hours before daybreak, one agent was killed and another injured while on-duty along Arizona's southern border. It is believed they were responding to an alerted ground sensor in a remote area near Bisbee, a short distance north of the border. In a tragic coincidence, these agents were assigned to Brian Terry Station - newly-dedicated and named for a U.S. Border Patrol agent murdered under similar circumstances in Arizona less than two years ago.
"More recently, in May 2011, we lost two more agents - Eduardo Rojas, Jr. and Hector Clark - when they were killed in a vehicle accident while pursuing suspected drug smugglers near Gila Bend.
"What happens next has become all-too-familiar in Arizona. Flags will be lowered in honor of the slain agent. Elected officials will vow to find those responsible. Arizonans and Americans will grieve, and they should. But this ought not only be a day of tears. There should be anger, too. Righteous anger - at the kind of evil that causes sorrow this deep, and at the federal failure and political stalemate that has left our border unsecured and our Border Patrol in harm's way. Four fallen agents in less than two years is the result.
"It has been 558 days since the Obama administration declared the security of the U.S.-Mexico border 'better now than it has ever been.' I'll remember that statement today."
-Arizona Gov. Jan Brewer
"My first thoughts are with the families of the two agents attacked last night and the grief they're feeling today. Every act of violence against the brave men and women who serve this country is a loss for their relatives and loved ones, and for all of us.
"I spoke with Border Patrol Commander Self earlier today, and he spoke of the resilience and unity of the Border Patrol family in this difficult time. They're dedicating enormous resources to pursuing and bringing to justice the people responsible. I couldn't agree with him more. We join him and the entire Border Patrol community in demanding justice and accountability. This crime cannot, and will not, pass without a swift and appropriate response.
"As that investigation goes forward, I encourage everyone to refrain from exploiting today's tragedy for their own purposes. Using the death of an American as an occasion for divisive political rhetoric is not timely, humane or appropriate.
"I am profoundly grateful for the service these agents have rendered their country and deeply saddened by today's loss. The Border Patrol and the larger law enforcement community are responding quickly, thoroughly and professionally, and I share with the people of Southern Arizona an eagerness to see justice done as soon as possible."
-Arizona Rep. Raúl M. Grijalva
"Along with my friends and neighbors who live near the border, I express my profound sadness at the loss of one of our courageous Border Patrol agents and extend my deepest condolences to the families of the agent killed and the other agent wounded.
"The Cochise County Sheriff's Office and the FBI were quick to respond and they are searching for the suspects in this disgusting act of violence on the people who protect us.
"This morning's shooting reinforces what many of us in Arizona have known for years-that our southern border is not secure, that armed drug and human smugglers remain a grave threat, and that the federal government's response to the situation has been totally inadequate.
"The safety of our citizens must be a fulltime priority, not just something we focus upon after a tragedy. Our men and women in uniform face these dangers every day, and we owe it to them to address this issue once and for all. The federal government continues to drag its feet, so Arizona must step forward and do all it can."
- State Sen. Gail Griffin, R-Hereford
"I am incredibly saddened by the shooting of two Border Patrol agents this morning. My thoughts and prayers go out to them, their families and all those who serve with them. This tragedy is a stark reminder of the dangers Border Patrol agents face and the sacrifices they make to protect our country. I would like to thank them for their service and dedication."
- State Rep. Chad Campbell, D-Phoenix, House minority leader
"My thoughts and prayers are with the families of the BP agents that were shot, 1 killed in Southern Arizona today."
- U.S. Rep. Ben Quayle, R-AZ
"This is a powerful reminder that our borders are far from secure and that every day the courageous men and women of the Border Patrol put their lives on the line while protecting the citizens of Arizona and the United States.
"It is especially tragic that the agent who was killed today worked at a station named in honor of Brian A. Terry, a Border Patrol agent slain in the line of duty in December 2010. I was honored to help dedicate the station in Brian Terry's name two weeks ago and today I am deeply pained that we now mourn the death of another agent from that same station.
"We need to redouble our efforts to secure the border and ensure the safety of Border Patrol agents. We cannot cede one foot of American soil to these cross-border bandits. And we must never forget that the men and women of the Border Patrol are on the front lines defending our country.
"This morning I spoke to Border Patrol leaders for the Tucson Sector to offer my condolences to the men and women of the Border Patrol. My thoughts and prayers are with the family, friends and colleagues of the agent who today made the ultimate sacrifice for his country."
- U.S. Rep. Ron Barber, D-AZ
"Our hearts go out to the family. Every time that a law enforcement person is either killed or shot or injured in the line of duty we have to take a moment and think of the families and think of the heroes involved. We very much feel that. And our hearts and prayers go out to the families."
- Lanny Breuer, assistant attorney general - Criminal Division, U.S. Dept. of Justice on CNN
"Our thoughts and prayers are with the agents' families at this difficult time. Violence along Arizona's border cannot be tolerated by the federal government any longer. The federal government must commit the necessary resources to secure the border, because that's simply not happening right now."
- U.S. Rep. Jeff Flake, R-AZ
"Law enforcement lost another hero today who was doing his job to protect America. While Secretary Napolitano says the border is more secure than ever this is another tragic reminder to everyone that it is not."
- Pinal County Sheriff Paul Babeu
Copyright 2012 CBS 5 (Meredith Corporation). All rights reserved.