Widow says flowers at husband's grave disappearing
Posted:
Updated: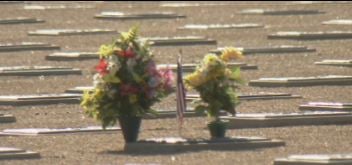 © CBS 5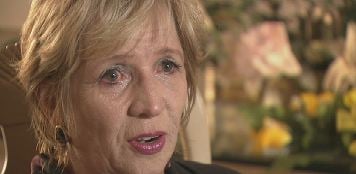 Margo Dorrough
PHOENIX (CBS5) -
A woman grieving the loss of her husband says she's dealing with another heartache - she believes someone is stealing the silk flowers she's laying by his grave to turn around and sell them. But the cemetery says it could be Mother Nature to blame, not bandits.
"John is my renaissance man, he could do everything and anything," said Margo Dorrough of her husband, who fought in Vietnam. "Unfortunately, he passed away 2 1/2 hours after our 25th wedding anniversary."
Dorrough said she is fighting to protect his final resting place. She placed a bouquet by his grave site at the National Memorial Cemetery of Arizona on Memorial Day. But a week later, they were gone. The cemetery clears out flowers twice a year, in January and July, but they disappeared in May, so she called the office.
"I was told, that happens, people do take the nicer bouquets and sell them on eBay, sell them at stands," she said. The cemetery urges people not to spend a lot of money on the flowers they leave, but Dorrough isn't happy with that suggestion.
"Well I don't want to put something on my husband's marker that is not worthy," she said.
"Has something maybe been taken, not from here, but other places and taken from a flea market? Yes, I wouldn't be surprised," said Wayne Ellis with the National Memorial Cemetery.
He blames the weather and showed CBS 5 News a picture of flowers knocked over that he said happened after a dust storm. He also said they have security patrolling the premises after hours, but they can't be everywhere at once - especially with a place that size.
"They've found people who didn't belong here and they've asked them to leave," he said.
They've thought about putting up gates since the place is wide open but haven't gone that far yet.
"It's just going to be a matter of time before those gates go up," he added.
"To think that even in death people are stealing from them, and it's very painful and yet it angers me," Dorrough said.
Copyright 2012 CBS 5 (Meredith Corporation). All rights reserved.