Mesa couple tracks down stolen laptop, sees photos of potential crooks
Posted:
Updated: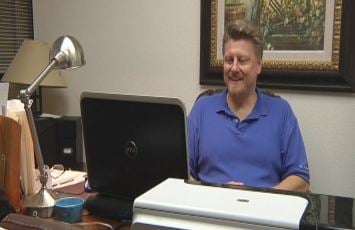 MESA, AZ (CBS5) -
A Mesa CPA and his wife were so upset someone stole their laptop they rolled up their sleeves and began playing detective. They not only were able to write the potential criminals a note, but also get their hands on pictures of them.
"We aren't ones to just lie down" said Derrick Doba.
When he heard the door to his office open two weeks ago he thought it was his wife, Christiana, but when she came in 10 minutes later, he realized it wasn't.
"I see my computer's not there," Christiana Doba said.
The Dobas filed a police report, but didn't stop there. Derrick Doba got onto their LogMeIn.com account, where he remotely accessed the stolen computer.
"The other individual on the other end didn't really know what was happening and we started fighting over control of the cursor," he said.
Derrick Doba said he wrote whoever had the computer a note.
"I said a couple of choice words I won't repeat and I basically said, 'Bring back the computer, we can see you, and the police are on the way,'" he said. But whoever was online quickly logged off. Derrick Doba lost hope until a few days later.
"All of a sudden my wife came to me and said, 'Did you upload files to my computer or pictures?' I said, 'Of course not,'" he said. Derrick Doba uses Carbonite, a digital hard drive, that let them see photos uploaded to the stolen computer.
"She said, 'Oh my gosh, I think we have a picture of this guy,'" he said.
While Derrick Doba said he remembers seeing the people in the photos around the office near the time the computer was stolen, Mesa police are investigating - but so far no one has been arrested.
"We won't quit, we're coming for you," Christiana Doba said.
The Dobas last tracked the computer to Yuma but now they don't know where it is; if you know anything about this, call Mesa police.
Copyright 2012 CBS 5 (Meredith Corporation). All rights reserved.