Phoenix couple arrested for abusing 7-year-old girl
Posted:
Updated: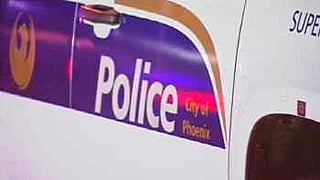 © CBS 5
PHOENIX (CBS5) -
A man is facing charges for allegedly molesting a 7-year-old girl. The girl's mother is also facing charges for not reporting the abuse.
According to the police report, the man said he told the girl's mother who he was dating that he had a history of molesting young girls. The girlfriend allowed her daughter to move into the home with the suspect in July, police said.
In September, the victim told school officials that the man touched her.
Investigators found that the man had sexually abused her more than 40 times at his home.
Police said the victim had told her mother and her mother allegedly said it was an "accident" and allowed the daughter to continue to live in the home.
After the suspect was arrested, he admitted to the abuse and stated that "he didn't know if he would be able to stop," according to the report.
He faces 45 counts of sexual conduct with a minor and 20 counts of molestation.
The mother was arrested on one count of failure to report abuse and one count of child abuse.
The man and the mother's name has been omitted to protect the victim's identity.
Copyright 2012 CBS 5 (Meredith Corporation). All rights reserved.