Retired officer: Terrorist stunt could've turned deadly
Posted:
Updated: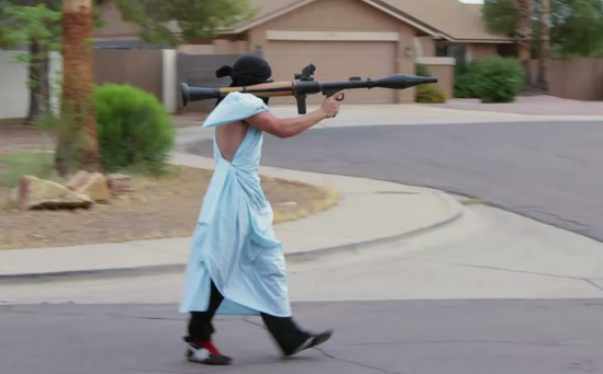 © CBS 5
PHOENIX (CBS5) -
The video is shocking: A 16-year-old boy posing as an armed terrorist at a busy Phoenix intersection.
Police said his uncle, 39-year-old Michael Turley, is the mastermind behind the camera.
In the video, Turley admits he and the actor, his nephew, put themselves in "great danger."
Retired Phoenix Police Sgt. Andy Hill tells CBS 5 News, it could've had a deadly ending.
"How fortunate that he and that young man, he used to help him, did not get killed," he said.
That was Hill's "first response" to seeing the YouTube video of the same name.
His former department said Turley had his teen nephew pose as a terrorist, holding a fake rocket-propelled grenade launcher near Bell Road and 33rd Avenue while he filmed the hoax to test Phoenix police's response time to the situation.
"The way citizens are today and with the right to bear arms and after 9/11 and after all of the things we've been through in this country, I'm surprised that someone didn't come out there with a gun and take him down at gunpoint - if not shoot him for having that type of a weapon," Hill said.
He told CBS 5 News that they likely would've had every right had they done so.
"If you're in fear for your life and someone threatens to use deadly force against a third party, an innocent third party, you're more than justified under the law to do that," Hill said.
As for Turley's claim that he's an independent filmmaker, Hill said Turley's social experiment doesn't trump public safety.
"He didn't have proper permits and he didn't go ahead and seek to make sure the area was safe," Hill said. "What he did was go out and scare people half to death and, he's lucky that no one did anything."
Turley is now facing several charges including knowingly giving a false impression of a terrorist, endangerment, contributing to the delinquency of a minor, and misconduct involving a simulated explosive.
Phoenix police said they received at least nine 911 calls on July 28 from people who witnessed the hoax.
They're asking those callers to contact them, to help with their investigation.
When contacted, Turley refused to talk with the media.
Copyright 2012 CBS 5 (Meredith Corporation). All rights reserved.
Related: