Valley man teaches how to build guitars
Posted:
Updated: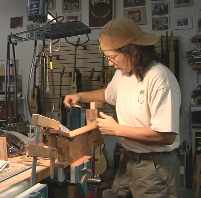 PHOENIX (CBS5) -
There are 89 days until Christmas, and CBS 5 might have found one of the most unique presents available in the Valley.
A guitar.
But not just any guitar. A guitar that is handmade by anyone who is willing to take the time.
CBS 5 talked with George Leach from the Phoenix Guitar Company who says it takes about 100 hours to hand design and build an instrument.
Leach offers a class, starting in October, that runs every Saturday for the next 15 or so weeks.
First, the customer picks what kind of guitar they want to build and what kind of wood they would like to use. Then, piece by piece and week by week, the instrument comes together.
Leach says he gets a wide variety of people. The youngest customer was 16 years old. The oldest around 78 years old.
People have traveled from all over the state, from Lake Havasu City to Flagstaff and Yuma, to take the class.
Some students have no woodworking experience. Others have a lot.
Some are musicians who want to play on an instrument they have built themselves.
"One woman wanted to give a special gift to her son that was returning from the Peace Corps, and so she took the class and was very nervous that she could do anything at all, and she built a terrific guitar," said Leach.
It costs about $2,500 to build a guitar, which includes the instruction, materials and, of course, the guitar itself.
Copyright 2012 CBS 5 (Meredith Corporation). All rights reserved.