Daughter: Undocumented immigrant mother's trip to jail needless
Posted:
Updated: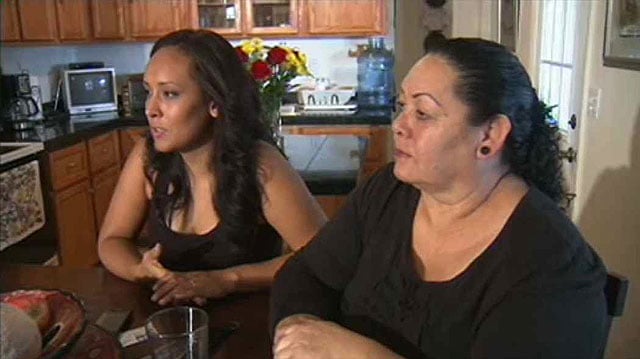 Erika Andiola said her mother, Maria Arreola, was pulled over for speeding but a trip to jail was unnecessary.
MESA, AZ (CBS5) -
Mesa police said they pulled Maria Arreola over Saturday night because she was speeding. Arreola's daughter, Erika Andiola, said she believes it was for a much different reason - SB 1070.
Andiola, an activist for immigrants' rights, captured the encounter with Mesa police on her cell phone and posted it on YouTube.
Arreola was driving near Broadway Road and Stapley Drive about 9 p.m. when the flashing lights went on behind her. Arreola is an undocumented immigrant and does not have a driver's license, her daughter admitted.
So when officers asked for Arreola's driver's license, Andiola asked if they could bring her ID to the officers.
"Can we bring her ID here?" Andiola asked, offering to produce her mother's Mexican passport from home to prove her identity.
She said she told the officer they did not want to answer any immigration status questions and had the right to remain silent.
"You know what? Before all the games and the address, and the right to remain silent and all that crap, maybe. But now? No," the officer is heard saying in the video.
Andiola says she does not agree with the officer's decision to take her mother to the police station.
While Arreola did not have identification to prove who she was, Arizona's new tough immigration law, SB 1070, allows officers to ask a person's immigration status during traffic stops.
"Yeah, exactly, and the law shouldn't be like that," Andiola said.
But Mesa police spokesman Steve Berry on Monday said the stop had nothing to do with SB 1070.
He said the officer followed standard protocol and would have done the same thing if it were anyone else.
"The rules are the same for her or anyone else," Berry said. "You, I, white, black, Hispanic, whatever. If you get stopped and you are in violation, you've got to have identification."
Police say Arreola was taken to the police station, where they were unable to find her name in the system. So they ran her through U.S. Immigrations and Customs Enforcement and ICE said to let her go.
Arreola was cited for speeding, not having a license and not having proof of identification.
Meanwhile, Andiola said her mother is in the process of getting residency in the U.S.
Copyright 2012 CBS 5 (Meredith Corporation). All rights reserved.