Snakes on a car? Boa constrictor under vehicle startles woman
Posted:
Updated:
By Chris Oberholtz, Digital Content Manager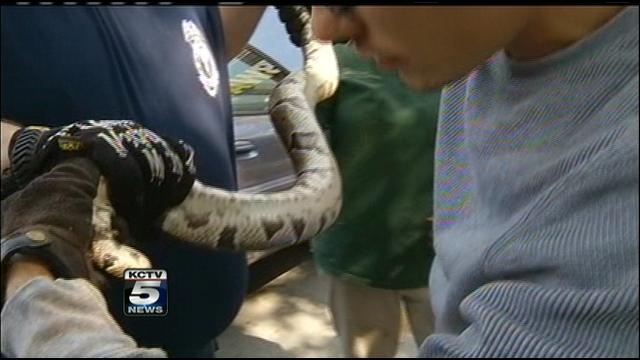 KANSAS CITY, MO (KCTV) -
A woman was startled Monday afternoon after she found a boa constrictor wrapped underneath her car.
Two men noticed the unwanted passenger, described to be a 4-foot long red-tail boa, wrapping itself in the undercarriage of Lora Ledbetter's car parked outside of a Subway near West 77th Street and State Line Road in Kansas City, MO.
"I got there in time to see the tail go up over the back wheel well, and I could see this big, big, spotted snake," Ledbetter said.

Others came outside to coax the snake, they were unsuccessful, so Lakeside Nature Center was called to assist animal control who helped remove the snake about 1 p.m.
They sprayed the snake with water to loosen its grip and they managed to get it loose from under the car.
Animal control took the snake, but it is expected to be turned over to Lakeside Nature Center to adopted out.
It is unknown at this time who the owner might be.
Refresh this page for updates.
Copyright 2012 KCTV (Meredith Corp.) All rights reserved.