Colorado family reunited with 150-year-old bible found in Valley
Posted:
Updated: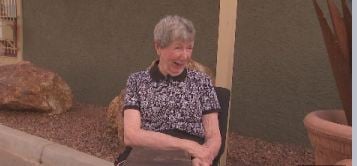 Ann Stong
AVONDALE, AZ (CBS5) -
A priceless family heirloom was discovered at an estate sale and is now back in the hands of its rightful owner.
After a journey of more than 150 years and 1,500 miles, a treasured family heirloom and its long-lost owner were reunited Saturday.
"It's unbelievable to have this surface," said Ann Stong. "It'll make me cry."
Stong said the cover page of the bible is written by her great-great-grandfather and was presented to him in 1868. She came to the Valley on a mission from Denver, CO to get back the family bible.
Someone bought the bible at an estate sale in the Valley, but no one can figure out how it got here. The person who found the bible gave it up for auction to Pot of Gold in Avondale.
Stong said her family was among the original Dutch settlers in New York City. Later, they moved and settled in Fairview, IL.
The bible was located at the auction by a woman named Mary Marsh, who, of all things, was looking through auction items for a bookcase.
"I sent her an email; 'Possibly this could be your family's, this is the information I have,'" Marsh said.
"I emailed her right back and said, 'I think it's my family,'" Stong said.
Stong recognized the handwriting because of family documents she had seen. The bible has pictures, family letters, newspaper clippings and even obituaries.
"So I've straightened out the whole genealogy of the family by doing this," Stong said.
The bible sold at auction for $50.
"I feel like we're going to be connected forever now," Marsh said.
But these ladies will tell you you can't put a price on family.
"It will be cherished, believe me," Stong said.
Copyright 2012 CBS 5 (Meredith Corporation). All rights reserved.