Gilbert restroom is a finalist in "America's Best Restroom" contest
Posted:
Updated: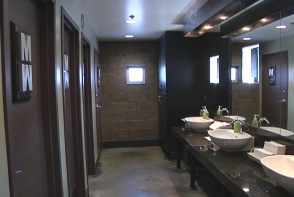 PHOENIX (CBS5) -
When deciding where to go out to eat, customers usually base their decision on a restaurant's food or atmosphere. But what about their restrooms?
One Gilbert restaurant, Liberty Market, is getting high marks for its facilities.
It's a finalist in the America's Best Restroom contest put on by Cintas Corporation.
They are in competition with nine other restrooms for the title, from Hollywood to New York.
CBS 5 News took a tour of the bathroom. Each individual stall is a separate room, providing complete privacy.
And each room/stall was designed by one of the co-owners of the restaurant.
For example, co-owner and chef, David Traina, hand-wrote some of his recipes on the wall of one bathroom. He also hung utensils from the ceiling.
Another room plays Italian music and displays a huge picture of the Italian countryside.
"Each one of them locks so they're individual, very private and then you come out and you commune with others, while you wash your hands and that's a little bit different," said Traina.
While a customer washes their hands, they don't just stare at a mirror. An individual window was put in above every sink so customers get a nice view of outside.
The unique bathroom experience has people making the facilities a destination when they eat at Liberty Market.
"People say, 'hey, make sure after you eat, check out the bathroom. They're great, we've never been to a bathroom like that before'," said Traina.
To vote for the best restroom go to: http://www.bestrestroom.com/us/vote.asp.
Voting ends Oct. 26.
Copyright 2012 CBS 5 (Meredith Corporation). All rights reserved.