Taxi driver: Golf carts gone wild at Scottsdale bar scene
Posted:
Updated: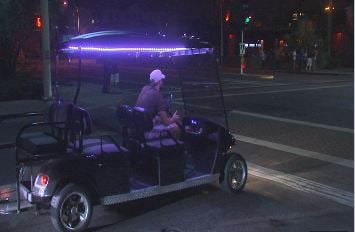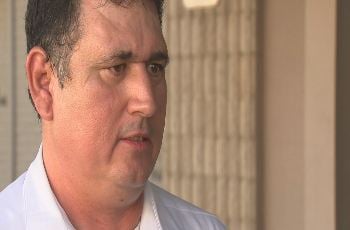 SCOTTSDALE, AZ (CBS5) -
If you drive around Old Town Scottsdale this weekend and you see a bunch of golf carts on the road, you're not missing out on an after-hours tournament. It's an alternative to a pedicab or taxi, but some people said these carts are out of control.
These golf carts are legal as long as the street has a max speed of 35 mph and drivers obey the rules of the road. But some said that isn't happening.
Taxi driver Sergio Lopez said the fun is going too far. He's taken some videos of golf cart companies driving around Scottsdale. These companies take party-goers from bar to bar, or even home, and usually only accept tips as payment. But Lopez said he has seen them run red lights, crowd the carts, and even climb on top and ride on the roof while it's moving.
"Passing red lights, don't stop, don't respect stop signs," Lopez said, describing their behavior.
"We're an easy, effective way to get to the next club," said Aaron Lipson, owner of Bunny Rides. While he said his company is not featured in these videos, he started the golf cart transport business in Scottsdale.
"It's the nature of the beast sometimes," he said. "You have people who get on your golf cart that get a little rowdy at times."
He said Lopez is just mad they're taking away his business.
On any given Friday or Saturday night, Bunny Rides has about eight of these carts in service. And the carts can hold 10 people plus the driver. It also has two seatbelts in the front seat.
We asked Lipson if he felt it'd be even safer to have belts on all the seats.
"You could have them on other seats but, you know, I did have them at one time, and it was a situation that as long as you control your crowd and you don't overstock your seats, you're not going to have a situation," Lipson said.
CBS 5 News decided to go out on a Friday night in Old Town Scottsdale to see. There were a lot of pedestrians, police, pedicabs, and a LOT of golf cart cabs. There was also some not-so picture-perfect behavior: some cart drivers not paying attention, overstuffing passengers in the seats, and even people standing while riding.
"From a law enforcement standpoint, we want to make sure people get home safely," said Scottsdale police spokesman David Pubins. He said the carts have to have front seatbelts, lights, and insurance - just like everyone else. We showed him the videos Lopez took.
"I can tell you year-to-date we have issued two to three times more citations to each the golf carts and the pedicabs than we have to the taxi cab drivers," he said. Pubins added that could be because it's easier to spot violations, like if too many people are in one seat. He added that if an officer saw what happened in the videos, the drivers would have gotten cited.
Lopez said the golf carts can do business downtown, but drivers have to obey the laws like everyone else.
"They have a right to do that, but they don't have to do it the way they do," he said.
CBS 5 News also asked police if they believe any ordinances need to change to make these golf carts safer and they said it's not their job to decide that - it's just their job to enforce the laws already in the books.
Copyright 2012 CBS 5 (Meredith Corporation). All rights reserved.