UPDATE
2 officials leave Justice after report on Fast and Furious
Posted:
Updated: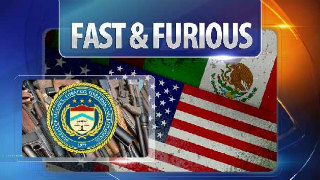 © CBS 5
WASHINGTON (AP/CBS) -
Two senior Justice Department officials are leaving their jobs, after the release of a report that faulted the agency's handling of a gun-trafficking probe in Arizona.
The probe, called Operation Fast and Furious, resulted in hundreds of weapons turning up at crime scenes in the U.S. and Mexico.
The inspector general's report cited misguided strategies, errors in judgment and management failures during the bungled operation. More than a dozen people were referred for possible disciplinary action for their roles in the probe and an earlier investigation that was carried out during the George W. Bush administration. [Click here to read the full report (PDF)]
The report didn't criticize Attorney General Eric Holder, but it said lower-level officials should have briefed him about the investigation much earlier.
One of those criticized in the report, Kenneth Melson, retired upon release of the report. He was the former acting director of the Bureau of Alcohol, Tobacco, Firearms and Explosives. The report said he "made too many assumptions about the case."
And Justice Department career attorney Jason Weinstein has resigned. He was a deputy assistant attorney general in the department's criminal division in Washington. The report said he was in a position to see the similar "inappropriate tactics" used in the two probes.
Gov. Jan Brewer released this statement on the report.
"With today's release of the Inspector General's investigation, it is clear that 'failure' is the word that best describes the ill-conceived gun-walking probe known as Operation Fast & Furious.
"This 400-page report documents in tragic detail the failed judgment by federal authorities who concocted the Fast & Furious scheme; failed leadership by ATF and DOJ officials who allowed it to proceed under their watch; and failed accountability by the Obama administration in dodging questions and ducking responsibility at every turn.
"This much we now know: Operation Fast & Furious assisted in walking more than 2,000 firearms into the waiting arms of drug cartels and criminals. A slew of victims on both sides of the border were left in the wake of this operation - including U.S. Border Patrol Agent Brian Terry. Murdered in December 2010 while on-duty near Rio Rico, Arizona, Agent Terry's body was found near two AK-47s traced to Operation Fast & Furious.
"The most universal, basic responsibility of any federal law enforcement authority is to protect the public. So, there can be no more damning finding than that of the Inspector General that Obama administration officials responsible for Operation Fast & Furious were guilty of 'failure to adequately consider the risk to public safety in the United States and Mexico.'"
U.S. Congressman Paul A. Gosar released the following statement on the findings:
"This report confirms what I have firmly believed and said since information about Fast and Furious came to light-officials at the Department of Justice, under Attorney General Eric Holder, acted with a reckless disregard for the lives and safety of Americans and Mexicans alike. The report shows a lack of accountability and transparency at main Justice, which has been the basis of congressional inquiries. I look forward to tomorrow's hearing and the opportunity to hear from Inspector General Horowitz on his findings.
"We must not forget what this report was about. The consequences of Fast and Furious are higher crime and more deaths. I remain committed to seeing justice brought for Border Patrol Agent Brian Terry and the hundreds of Mexicans who have lost their lives.
"This report relied on approximately 100,000 documents and 130 people who were interviewed, many of which were not made available for congressional inquiry. The American people deserve better from their Attorney General which is why I voted to hold him in contempt, and why I am sponsoring a House Resolution of No Confidence in him (H. Res. 490). Attorney General Holder must resign, and President Obama must insist upon the agency's full cooperation during the remainder of our investigation."
Copyright 2012 CBS 5 (Meredith Corporation). All rights reserved. The Associated Press contributed to this report.