UPDATE
Glendale gym teacher accused of luring minors for sex
Posted:
Updated: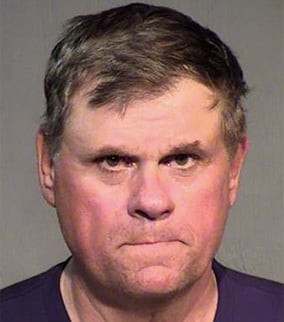 John Todorich
GLENDALE, AZ (CBS5) -
An Arroyo Elementary School teacher was arrested by Phoenix police Friday on suspicion of luring minors for sex.
The school said John Todorich, a physical education teacher, was taken into custody at his home on Friday.
Todorich, 55, of Phoenix, was booked in the Fourth Avenue Jail on one count of molestation of a child and two counts of luring a minor for sex.
A Washington Elementary School District spokeswoman said students were given a letter for their parents notifying them of the arrest and that the teacher had been put on administrative leave Friday morning. [Click here to read the full letter (PDF)]
"My son goes to this school. It's a shame something like that is around kids all day long," said Brady Bingham, a concerned parent.
Police confirmed to CBS 5 that Todorich was investigated for child molestation in 2010, and he's also facing charges for that now.
"I want to take my kids out of Arroyo. I like the school, but I don't know what to think right now," said Angelina McBride.
According to court documents, Todorich created a fake Facebook profile last year posing as a 16-year-old, using a picture of a minor as his identity.
Police said he began having online conversations with a boy under the age of 15 on Facebook and solicited him for sex acts on May 25 and May 26, 2011.
The victim's mother discovered the Facebook chat messages in May 2012, police said. The mother called the police and made a report.
Todorich had worked in the district for the past seven years.
Police said Todorich was accused but never charged of fondling a boy in 2010 while he was a gym teacher at Sweetwater Elementary, another school in the Washington Elementary School District. Three adult witnesses came forward and said they saw Todorich touch the boy's private parts during a P.E. class, a court document stated.
The court document shows Todorich is now being charged in that case as well.
"In this sort of case, the fact that there's been more than one allegation in and of itself is new evidence," said criminal defense attorney Vladimir Gagic, who is not involved with this case.
The district said Todorich twice underwent fingerprint and background clearance from the Arizona Department of Public Safety - once when he was hired by the district in 2005 and again last year.
"These situations are extremely unfortunate for everyone, but we must continue to be focused on teaching our students and let law enforcement do their jobs," Principal Philip Liles stated in the letter.
So since Todorich was never charged in 2010, did administrators do the right thing in transferring him to a different school within the district?
"They're stuck legally both ways," said Gagic. "They're facing liability to a potential lawsuit from the teacher and a potential lawsuit from the students."
While the district said the principals of the schools Todorich was transferred to were aware of the initial allegations, parents were not notified because he was never charged. They also said we're all innocent until proven guilty, and back in 2010 they thought they did the best thing for their students.
Liles said the school was notified on Thursday that the teacher was being investigated.
The school is at 4535 W. Cholla St. in Glendale.
Stay with cbs5az.com and CBS 5 News as this story develops.
Copyright 2012 CBS 5 (Meredith Corporation). All rights reserved.