SEE THE BACK STORY
GoDaddy.com back online after hacker sparks outage
Posted:
Updated: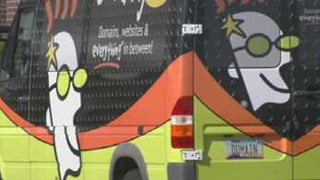 GoDaddy.com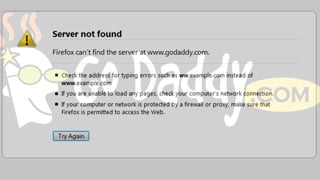 Message on GoDaddy.com
SCOTTSDALE, AZ (CBS5) -
The popular internet giant GoDaddy.com was down for hours Monday, potentially affecting thousands of websites and email addresses associated with the company.
The owner of a public relations company based in Scottsdale called The Brand Consortium said her emails stopped working Monday.
"GoDaddy handles all of our email and website hosting," Melissa Rein said.
She said she has used GoDaddy.com since she started her company nearly four years ago and today she runs, "25,000 emails on their server."
But Monday Rein said she noticed something was wrong.
"In an average day I get about 200 emails, so after sitting in a meeting for about an hour, my phone wasn't buzzing and I knew something had to be wrong," Rein said.
She noticed her emails stopped coming through just after 10 Monday morning and Rein was not alone.
She and at least thousands of other small businesses noticed GoDaddy.com's servers had been knocked off line, taking websites and emails with it.
While the news spread on social media, via Twitter, GoDaddy.com acknowledged the problem tweeting, "Status Alert: Hey, all. We're aware of the trouble people are having with our site. We're working on it."
It wasn't long until a member of the online hacker in the group named Anonymous took responsibility for it, tweeting, "Hello godaddy.com now yes! all servers #tangodown by @AnonymousOwn3r."
And so far the only explanation is coming from the Anonymous member tweeting in broken English [sic]: "I'm taking godaddy down bacause well i'd like to test how the cyber security is safe and for more reasons that i can not talk now."
GoDaddy.com's website had a message from CEO Scott Wagner earlier in the day Monday that read:
"We are experiencing problems. We understand this is impacting some customers and we take this situation very seriously. Everyone at GoDaddy.com is working to restore all sites affected by this outage as soon as possible. Please see updates on Twitter.com by following @GoDaddy or on Facebook. Thank you for your patience."
Also Monday, GoDaddy.com issued a statement to the media from the Vice President Public Relations Elizabeth L. Driscoll that read:
"At around 10:25 am PT, GoDaddy.com and associated customer services experienced intermittent outages. Services began to be restored for the bulk of affected customers at 2:43 p.m. PT. At no time was any sensitive customer information, such as credit card data, passwords or names and addresses, compromised. We will provide an additional update within the next 24 hours. We want to thank our customers for their patience and support."
Computer expert Ken Colburn with Data Doctors said the best way to keep yourself safe is to use different companies for your email and web hosting needs.
"It's a learning lesson for everybody to kind of step back for a second and say, 'Am I putting all of my Internet eggs in one basket?' and if the answer is yes, maybe it's time to diversify.
Colburn said there are 1000s of companies who can help, and in the wake of the GoDaddy.com outage he expects they might be offering deals to scoop up extra business.
Copyright 2012 CBS 5 (Meredith Corporation). All rights reserved.
SEE THE BACK STORY

GoDaddy.com back online after hacker sparks outage

More>>