UPDATE
PD: AZ mom abandons child, claims she gets 'sex crazy'
Posted:
Updated: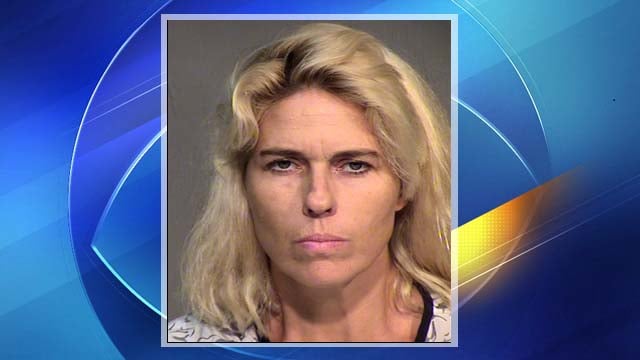 Laurie Lee Kelly
MESA, AZ (CBS5) -
A Mesa mother faces charges after she allegedly dropped her 6-year-old girl off at a park with strangers for hours while she sold herself for sex.
According to the police report, Laurie Lee Kelly, 43, bought beer for two transients on Tuesday and later asked them to watch her young daughter while she "went to make money."
Witnesses told police several people took turns watching the little girl.
"She's beautiful. She was fun. We ran around the park. She's a wonderful child," witness Maureen Wilson told CBS 5 on Thursday.
Witnesses said the girl was without water or a way out of the extreme heat for approximately four hours.
"She left her kid with total strangers," witness Ronald Baker said. "I'm glad that we're honest and protective."
Kelly told police she had sex with a couple of men while her daughter was in the park. According to the report, she claimed that she hoped nothing bad would happen to her daughter but she felt a "manic sexual rage" inside of her that she can't control and "needed to have sex."
Kelly was arrested on one count of child abuse and made her initial court appearance on Thursday. She was released under the condition that she has no contact with any children under the age of 16.
Kelly is employed by Mesa Public Schools as an instructional assistant at Whitman Elementary.
Mesa Public Schools spokeswoman Helen Hollands said she is on paid leave pending a district investigation.
Stay with cbs5az.com and CBS 5 News for updates on this developing story.
Copyright 2012 CBS 5 (Meredith Corporation). All rights reserved.