She said what? Brewer misspeaks, supports Obama
Posted:
Updated: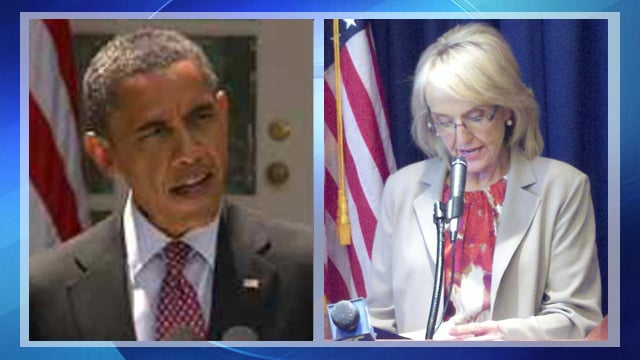 PHOENIX (CBS5) -
Gov. Jan Brewer clearly misspoke when she said in a television interview that she is hopeful President Barack Obama is re-elected.
The comments came Wednesday in an interview with MSNBC in which Brewer discusses immigration and the need to secure the country's border.
"And I know that if President Obama is elected in November, which I hope that he is, that he will be able to come together with all of us and come up with a solution and I believe he will secure our borders and therefore we can resolve all those other issues as a simple matter," Brewer said.
She didn't correct herself after saying she is hopeful that Obama can come up with a solution to border security in a second term, nor was she prompted to.
Brewer spokesman Matthew Benson said Thursday that the governor misspoke, and she's not the first to do so amid the noise and chaos of a crowded room.
Brewer supports Republican presidential nominee Mitt Romney, saying he understands states' rights to govern themselves.
Brewer has been at odds with Obama, verbally and legally, on immigration and other issues.
Copyright 2012 Associated Press. All rights reserved.