UPDATE
Polls closed in Arizona primary election
Posted:
Updated: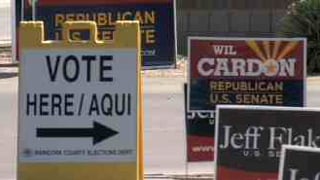 Republicans are deciding their U.S. Senate nominee and voters in both major parties are deciding contested races in U.S. House districts.
Congressional District 1
Democrat Ann Kirkpatrick is asking voters to send her back to Congress, as she challenges a political newcomer for the party's nomination.
Kirkpatrick lost the 1st Congressional District seat in 2010. She faces Wenona Benally Baldenegro in Tuesday's primary election.
Three men are seeking the Republican bid. They are former state Legislator Jonathan Paton, Gaither Martin and Patrick Gatti.
Paton and Kirkpatrick are considered the front-runners.
The district extends from the northern outskirts of Tucson on the south to the Arizona-Utah line on the north. It includes Flagstaff, much of eastern Arizona and a number of American Indian reservations.
Congressional District 2
Democratic Rep. Ron Barber faces a primary challenge for the first time as voters in southern Arizona's 2nd District head to the polls.
Barber is being challenged by state representative Matt Heinz in Tuesday's primary. Heinz said he wants voters to have a choice.
Other Democrats backed out after Gabrielle Giffords announced she was resigning and endorsed Barber as her replacement early this year. Barber won the seat in a June special election against Republican Jesse Kelly.
Two Republicans are seeking their party's nomination.
Retired Air Force Col. Martha McSally ran in April's special primary election and came in second to Kelly. She faces a little known challenger in Mark Koskiniemi.
The 2nd District takes in parts of Tucson and Pima County and all of Cochise County.
Congressional District 3
Five-term incumbent Arizona congressman Raul Grijalva is facing a rare challenge from within his own Democratic party in the primary election.
Former state legislator Amanda Aguirre and Tucson doctor Manny Arreguin represent Grijalva's first primary challengers since he was elected to Congress in 2002.
Analysts said Aguirre and Arreguin likely don't have the financial backing or name recognition to beat Grijalva in the newly redrawn Congressional District 3.
The sprawling district borders Mexico in southwestern Arizona and includes the western half of Tucson, parts of Yuma and portions of several western suburbs of Phoenix. The district became even more solidly Democratic after the boundaries were redrawn from the former Congressional District 7.
Two Republicans are running in the primary - newcomer Gabriela Saucedo Mercer and Tucson businessman Jaime Vasquez.
Congressional District 4
A freshman congressman and a state senator are in a heated battle for the Republican nomination in Arizona's 4th Congressional District.
Voters are deciding if they want to send U.S. Rep Paul Gosar, Arizona Sen. Ron Gould or a third man, radio station owner Rick Murphy, to the general election.
The heavily Republican district runs from western Arizona through Prescott and south of Phoenix.
Gould touts himself as the leading conservative with more legislative experience. Gosar says he's one of the most accomplished members of Congress who doesn't rule out compromise.
Murphy has stayed out of the fray.
Two little-known Democrats - junior high school social studies teacher Mikel Weisser and Johnnie Robinson - are seeking the Democratic nomination.
Congressional District 5
The GOP primary for Arizona's 5th Congressional District winds to a close Tuesday as voters decide whether to pick a candidate who touts his congressional experience or another who says he's free of the entanglements of Washington.
The primary for the seat in southeastern Maricopa County pits former U.S. Rep. Matt Salmon and former Arizona House Speaker Kirk Adams.
They're seeking the seat now held by Rep. Jeff Flake.
Flake is running for a Senate post.
Salmon say he knows how Congress works and has the relationships in Washington to be effective.
Adams says voters are concerned about former members of Congress like Salmon using their government experience to start lobbying careers.
The primary winner will face Democrat Spencer Morgan on Nov. 6.
Spencer doesn't face a primary opponent.
Congressional District 6
Republican voters in Arizona's 6th Congressional District are choosing between two sitting congressmen who have been engaged in a heated primary battle.
Ben Quayle and David Schweikert have been battling for weeks as each seeks a second term. The two were elected to adjacent districts in 2010 but redistricting made Quayle's more competitive and he decided to run in the nearby 6th District.
Each has been the target of heavy negative advertising on television in recent weeks.
The winner of Tuesday's primary will be highly favored to win the seat in November because the district is heavily Republican.
Democrats Matt Jette and John Williamson are running in their party's primary.
The district includes Scottsdale, Paradise Valley and parts of Phoenix.
Congressional District 7
Longtime Rep. Ed Pastor is asking Democratic voters to send him back to Congress for a 12th time.
Pastor is being challenged in Tuesday's 7th Congressional District primary by Rebecca DeWitt. Pastor is a fixture in the south Phoenix district and is expected to win easily.
Republican Scott Fistler is running as a write-in candidate in the heavily Democratic district. Libertarian Joe Cobb also has no competition in the primary.
The 68-year-old Pastor has been in Congress since winning a special election in 1991.
Congressional District 8
Trent Franks has represented Arizona for nearly a decade in Congressional District 2.
Now, the 55-year-old Republican is seeking the nomination in the state's new Congressional District 8 in the primary race.
The district takes in the entire northwestern corner of the state including Kingman and Lake Havasu City, but most of its vote is cast in the western Phoenix suburbs. And the district remains solidly Republican.
Franks says his staunchly conservative record makes it tough for other Republicans to challenge him from the right.
In the Republican primary, Franks faces Glendale businessman and Navy veteran Tony Passalacqua and write-in candidate Helmuth Hack.
Passalacqua says he's also a conservative.
Others vying for the CD8 seat are Democrat Gene Scharer and Stephen Dolgos, who is running on the Americans Elect ticket.
Congressional District 9
Arizona's new 9th Congressional District features wide-open primary election races Tuesday for both the Democratic and Republican parties' nominations.
Arizona added a ninth district as a result of population growth recorded by the Census, and the new district takes in much of Tempe and parts of Phoenix, Scottsdale, Paradise Valley, Mesa and Chandler.
There's no incumbent in the race, and the district is regarded as competitive between the two major parties.
The three Democratic candidates are David Schapira , Kyrsten Sinema and Andrei Cherny.
On the Republican side, the crowded field consists of Travis Grantham, Wendy Rogers, Leah Campos Schandlbauer, Martin Sepulveda, Vernon Parker, Lisa Borowsky and Jeff Thompson.
Voters pick nominee to replace Kyl
Arizona Republicans are picking their nominee to replace retiring Republican Sen. Jon Kyl.
Businessman Wil Cardon launched an expensive and unexpectedly feisty campaign against Rep. Jeff Flake for the seat. Although Cardon in the past month has backed off his aggressive television ads and taken a more positive tone, the campaign had been marked by accusations of hypocrisy, broken promises and flip-flopping positions on the emotional issue of immigration.
The winner will face Democrat Richard Carmona, a former surgeon general under President George W. Bush
Arizona hasn't elected a Democrat to the Senate since Dennis DeConcini won his third term in 1988, but Democrats are hoping the costly primary attacks will make it easier for Carmona to win the general election.
Pearce, Tobin face AZ primary contests
All 90 seats in the Arizona Legislature are up for grabs this year, but only some figure in contested contests in Tuesday's primary.
The highest profile race for one of the 30 Senate seats involves former Senate President Russell Pearce's comeback attempt.
The Mesa Republican known for championing laws against illegal immigration lost a recall election last November.
He faces businessman Bob Worsley in Tuesday's primary race for the GOP's Senate nomination for District 25.
House Speaker Andy Tobin is one of three current lawmakers battling for two Republican nominations for House seats from District 1 in Yavapai County and northern Maricopa County.
Rep. Karen Fann and Sen. Lori Klein round out the GOP field in that race. Redistricting put Klein in the same district with Tobin and Fann.
Copyright 2012 CBS 5 (Meredith Corporation). All rights reserved. The Associated Press contributed to this report.