Mesa PD: 2 children pulled from hot trailer, 1 dies
Posted:
Updated: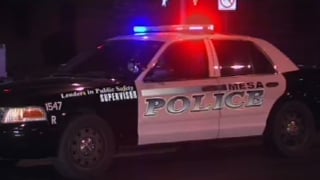 MESA, AZ (CBS5) -
A child found dehydrated and malnourished in a Mesa mobile home died at the scene and a second child was rushed to the hospital after their mother alerted police to the situation.
Police said they got a call Saturday night from their 22-year-old mother who reported her 2-year-old daughter was unconscious and not breathing, according to Mesa police Sgt. Tony Landato. The child was pronounced dead from unknown causes.
A medical team took a second child, a 1-year-old boy, to the hospital, where he is OK.
Landato said the temperature inside the mobile home "was extremely elevated and both children appeared malnourished and dehydrated." He said neither child showed signs of trauma.
Police said at a news briefing late Monday afternoon that the temperature inside the home was 100 degrees and it looked like the air conditioning had been out the last couple of days. They added the girl was sleeping in a bedroom with no furniture. We spoke to one neighbor who saw the commotion outside her home and wishes someone would've noticed some warning signs.
"When do you realize something's wrong with your baby before it dies?" asked Rashawnda Cossey. "As a mother, as a parent, when is it that your baby is just not the same?"
The boy will be placed in Child Protective Services once he's released from the hospital.
Police said they are waiting for a report from a medical examiner and the conclusion of the investigation before determining whether criminal charges will be filed.
Copyright 2012 CBS 5 (Meredith Corporation). All rights reserved.