Shhh! Tempe tones down noise on Mill Avenue
Posted:
Updated: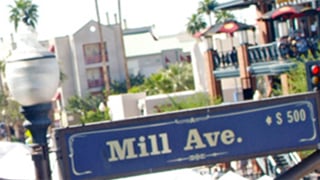 Courtesy of millavenue.com
TEMPE, AZ (CBS5) -
Tempe is launching a pilot program to curb the amount of noise in the Mill Avenue District, the city said Thursday.
Starting this week, no amplified sound or other excessive noise will be permitted without first obtaining a special event permit within the rights-of-way in the Mill Avenue District. The move comes after the Tempe City Council authorized a test program to control downtown noise and determine the impacts of various noise sources.
The boundaries for this area are College Avenue to Farmer Avenue, University Drive to the center of Town Lake. Residential developments within this area include Hayden Square, Edgewater and Bridgeview at Hayden Ferry Lakeside, Orchid House, West 6, Regatta Pointe and others.
The city said about 1,500 people live in this area. At least another 1,000 people are expected to live in downtown Tempe in the near future as developments such as The Hub and Villas at Southbank open.
"This is the next step in the coexistence of an entertainment district and a residential area," said Nancy Hormann, president of the Downtown Tempe Community.
Musicians are still welcome to play on Mill Avenue, but they need to perform acoustically.
"We believe we can keep the same vibrant atmosphere in our downtown while reducing excessive noise for area residents, businesses and visitors," said Tempe Mayor Mark Mitchell. "This program strikes a good balance between the entertainment of street performers and quality of life in our downtown."
The city said noise reduction will also be helpful for the visually impaired and for public safety officers who need to be able to hear their radios.
The pilot program runs through December 2012. City staff, the Downtown Tempe Community and Mill Avenue business owners will evaluate the program to determine the impacts it made on noise. The group will report back to the Tempe City Council and recommend further action, if needed.
Copyright 2012 CBS 5 (Meredith Corporation). All rights reserved.