Andrea Sneiderman granted bond, but still in jail
Updated: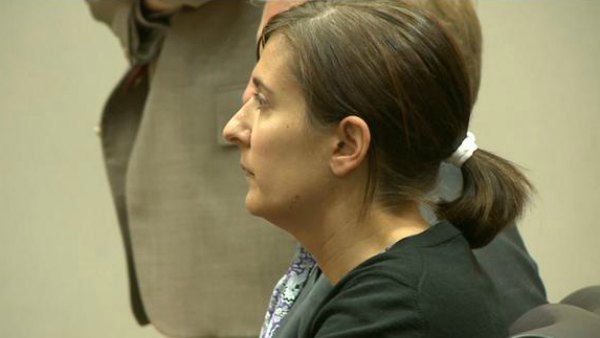 Andrea Sneiderman in court during bond hearing
DEKALB COUNTY, GA (CBS46) -
A DeKalb County judge granted Andrea Sneiderman a $500,000 bond Tuesday, nearly three weeks after she was arrested in connection to her husband's murder. As of 5:30 p.m. Wednesday, she remained behind bars in the DeKalb County Jail.
The judge ordered half of her bond amount to be paid in cash, and the other half in property or cash bond.
After the bond is paid, Sneiderman has to go through pre-trial services to get fitted for a GPS monitoring ankle bracelet.
Sneiderman has to pay for the monitoring service and find a company approved by DeKalb County Sheriff Tom Brown.
The judge was expected to sign Sneiderman's release papers at 8:30 a.m. Wednesday, another required step before Sneiderman could leave jail, but that didn't happen until after 10 a.m.
Sneiderman was arrested Aug. 2 on murder charges in connection with the 2010 death of her husband, Rusty Sneiderman. Rusty was gunned down outside of his young son's daycare in Dunwoody.
A jury has already found Andrea Sneiderman's former boss and alleged lover, Hemy Neuman, guilty of pulling the trigger, but prosecutors believe she was involved in the plot.
At Tuesday's bond hearing, Andrea Sneiderman's lawyers had to prove to the judge that she isn't a flight risk. They also had to show that she will not intimidate witnesses or try to obstruct justice.
Andrea Sneiderman's father, Herb Greenberg, was the first to take the stand.
"Our plan is to have her come back," testified Greenberg
"To live with you and your wife?" asked John Petrey, one of her attorneys.
'"To live with us and with the children," responded Greenberg.
A friend testified about the night Andrea Sneiderman was arrested.
"Did she try to flee or run?" asked Petrey.
"No, she did not even move," responded Elizabeth Stansbury. "She just kind of looked up and Herb said, 'The sheriff is here' and she said, 'You've got to be kidding me.'"
As part of Andrea Sneiderman's bond agreement, she has to live with her parents and will be under house arrest 24 hours a day. The judge is also requiring her to wear an ankle monitor.
She is not allowed to have any contact with witnesses in the case with the exception of her rabbi and children, and had to give up her passport, as well as her children's passports.
During Neuman's trial, the judge banned Andrea Sneiderman from the courtroom after she embraced a prosecution witness in court and then reportedly became angry at her in the hallway.
Another friend testified that Andrea Sneiderman is anxious to have her day in court.
"I think she was looking forward to fighting, looking forward to clearing her name," Jeffrey Moss testified. "I think she was trying to keep quiet because she thought that was in the best interest of Sophia and Ian (her two children) and now I think she wants to fight this."
Wednesday morning, the judge filed a gag order in Andrea Sneiderman's case, and also set her arraignment date for Oct. 8.
Copyright 2012 WGCL-TV (Meredith Corporation). All rights reserved.