Dirty Dining, Aug. 23: Worker talking on cell phone while cooking
Posted:
Updated: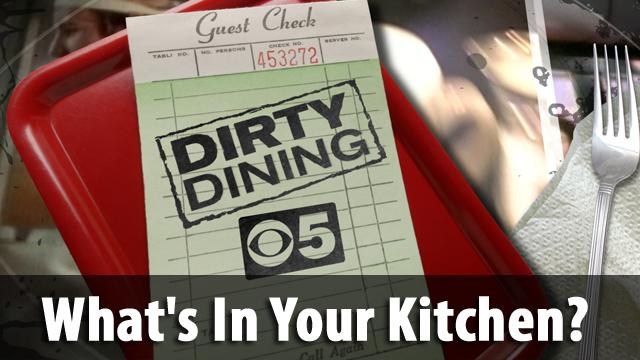 PHOENIX (CBS5) -
Every week, CBS 5 News is sent a list of restaurants that have been recently inspected by Maricopa County's Environmental Services Department. CBS 5 News selects five restaurants with some of the highest number of "Risk Factors." According to health inspectors, risk factors are considered major health code violations. For more details on the restaurant inspection scoring system, visit http://www.maricopa.gov/.
10021 N. Metro Pkwy
Black Angus Restaurant
Phoenix
5 violations
Bear Creek Golf Course
500 E. Riggs Rd.
Chandler
5 violations
Zam Zam World Foods
30 W. Galveston St.
Chandler
6 violations
The Groves Bar & Grill
323 S. Gilbert Rd.
Gilbert
8 violations
Hibachi Grill Buffet
4961 W. Bell Rd.
Glendale
9 violations
Dean's List – Those with perfect scores
Golden Rule Cafe
808 E. Jefferson St.
Phoenix
Coco's
9801 W. Bell Rd.
Sun City
Casella's Italian Deli
5905 W. Granite Reed Rd.
Scottsdale
Pete's Fish & Chips
1017 E. Apache Blvd.
Tempe
American Legion Post #29
6821 N. 58th Ave.
Glendale
Linda's On Osborn
2333 E. Osborn Rd.
Phoenix

Copyright 2012 CBS 5 (Meredith Corporation). All rights reserved.