SEE THE BACK STORY
Video of teen crashing BMW on South Mountain goes viral
Posted:
Updated: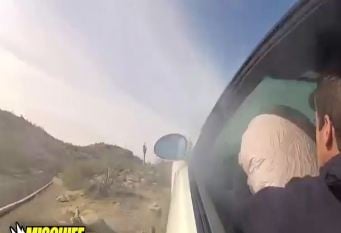 PHOENIX (CBS5) -
You see racing in movies like Fast and the Furious, but would you expect it on our Valley streets? A video posted to YouTube within the last two days has gone viral and it shows a teenager driving pretty recklessly in South Mountain park before he crashes.
More than a million people have seen this video, and while police are not investigating anything criminal, some driving experts are saying this isn't smart and it definitely isn't safe.
What do you get when you combine a 19-year-old, a sports car and the winding roads of South Mountain Park? Unfortunately for the driver and his passenger, you get in a bad situation.
Mischief.TV, a company that produces what they call crazy automotive DVDs, posted the video to their YouTube channel, and it's gone viral.
The website says it produces gritty DVDs documenting underground street racing, which is illegal, and their YouTube channel says they were going to use this particular video in the introduction of their latest DVD.
We asked the founder of Mischief TV, Dustin Worles, if he thinks this video promotes illegal activity, and he says he doesn't think it does. When we asked Worles about his other videos, which encourage and even glorify street racing and underage driving, he said he had no comment.
He said the 19-year-old made the video and said, "He admits he made a foolish mistake. He realizes that he could have killed himself or someone else. An inexperienced driver driving on an unfamiliar road. The car was totaled."
"It's just a typical kid who thinks they know more about driving than they really do," said Alan Rudolph, an instructor at the Bondurant School of High Performance Driving.
He said everything this driver was doing was wrong, from not looking far enough ahead to his hand positions on the steering wheel. He hopes people learn from this and don't try it at home.
"This is supposed to be done on a race track, that's where you should do it," he said.
Worles said the driver sent him this video at the beginning of the year but he just decided to post it online. Even though he said he doesn't think this video promotes anything illegal, he does hope others learn from it as well.
Copyright 2012 CBS 5 (Meredith Corporation). All rights reserved.