UPDATE
Utility: Tests confirm drinking water is safe
Posted:
Updated: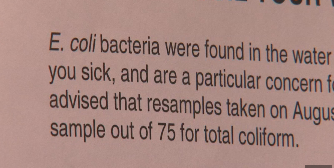 QUEEN CREEK, AZ (CBS5) -
Johnson Utilities Company said it confirmed Thursday morning that its water is safe to drink.
The utility had issued a drinking water warning Wednesday after E. coli bacteria were found in its water supply around Queen Creek.
The notice clearly stated that E. coli bacteria were found in the water supply Aug. 19 and its roughly 50,000 customers should take precautions by boiling water.
"Johnson Utilities apologizes for the inconvenience this warning may have caused. Some of our customers are wondering how this can happen. Water systems do get contaminated from time to time; however, in this case, we believe there never was any E.coli contamination. Rather, the false positives that were detected likely resulted from sampling errors or cross-contamination by the laboratory."
In a press release Thursday, the utility stated, "Because of questions about the initial sampling results, Johnson Utilities had the water retested at two State-certified laboratories. Both labs reported that the water contained no total coliform and no E.coli. Based on this information, Johnson Utilities has lifted the Drinking Water Warning advising customers to boil water before using."
On Wednesday, CBS5 went to Johnson Utilities corporate office in Phoenix, where Vice President of Operations Greg Brown said that no E. coli was found in the water.
"It says from those test results that there's no E. coli in the water, as of Sunday morning," Brown said. "There is no E. coli in the water."
John Calkins is manager of drinking water with Arizona's Department of Environmental Quality.
He said the follow-up tests on the water supply confirm that E. coli was present in water from tests collected on Aug. 16 and he has no information about any false positives or lab contamination.
"We look at analytical results and we base our decisions on those results," said Calkins. "Until we receive additional information we're considering the water to be contaminated."
CBS5 asked Brown why he believes there was never any contamination.
"Are there any facts to support that?" CBS5 asked.
"No," said Brown. "I can't comment on that because we don't know what all the facts are."
CBS5 then asked Brown why they would make a statement that there might have been a false positive, if they didn't have the facts?
"We have our reasons," said Brown.
State officials said when the first test results came back Aug. 18, the company was not required to notify the public.
It's only after follow-up tests confirm the presence of E. coli, that the company has 24 hours to issue a warning, Calkins said.
Johnson Utilities received follow-up tests results Tuesday.
The company was not required to inform the public until additional tests confirmed the possible presence of E. coli in the water supply. EPA guidelines require that companies notify the public within 24 hours after test results confirm contamination.
Johnson Utilities notified several schools of the water warning Tuesday, a day before it was required to inform the public.
Local businesses are trying to work around the problem. Many have chosen to close until it's fixed, but Wok and Roll Restaurant workers are coming in early to boil gallons of water so they can use it to clean vegetables and make rice.
"We had to make a salad this morning, and I can't pour boiling water over a salad so I had to wait for it to cool," said Irene Baird.
Copyright 2012 KPHO. (Meredith Corporation) All rights reserved.
UPDATE

Utility: Tests confirm drinking water is safe

More>>