UPDATE
Cousins get 48 hours jail for biggest wildfire in AZ history
Posted:
Updated: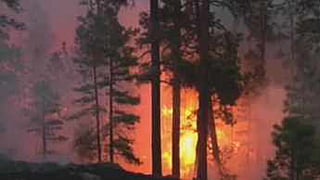 FLAGSTAFF, AZ (CBS5) -
Two cousins who admitted starting the largest wildfire in Arizona history have been sentenced to 48 hours in jail and 200 hours of community service.
Caleb and David Malboeuf appeared before a federal magistrate judge Wednesday in Flagstaff. The judge also ordered five years of supervised probation. They had faced up to a year in jail and a $10,000 fine.
As they addressed the court, both men struggled through tears and their voices cracking. They expressed overwhelming remorse for leaving their campfire without taking the proper steps to make sure it was completely out. And both told the judge their willingness to accept whatever punishment he saw fit.
"David and Caleb - they're good men," said Stephen Glazer, David Malboeuf's defense attorney. "It was emotional for everyone. No one wanted to see them go away."
The pair were camping in eastern Arizona's Apache Sitgreaves National Forest in May 2011 when their campfire spread outside its rings, sparking the Wallow Fire. The blaze burned more than 538,000 acres in Arizona and parts of western New Mexico before it was fully contained.
The Malboeufs conveyed to the judge their love of the forest - camping and hunting. Both said it broke their hearts knowing the devastation that resulted from their mistake.
"They know that they have an obligation to the mountain and to the forest and it hurts them to have done anything that harmed the forest," said David Derickson, Caleb Malboeuf's attorney.
The cousins pleaded guilty in March to misdemeanor charges of building a campfire without clearing flammable material and leaving it unattended in an agreement with prosecutors.
Prior to sentencing, the prosecutor told the judge he would be satisfied with no jail time probation and community service. The prosecutor said nearly all the victims except a few did not want to see the men's lives ruined by extensive jail time because of a mistake that anyone could have made.
"I think most of them seemed to recognize that these defendants did feel bad about what had happened and their punishment was going to be living with that for the rest of their life," said federal Prosecutor Patrick Schneider.
Before announcing his sentence, U.S. District Court Judge Mark Aspey said he knew that the men had learned their lesson and would never do anything like this again.
Copyright 2012 CBS 5 (Meredith Corporation). All rights reserved.
UPDATE

Cousins get 48 hours jail for biggest wildfire in AZ history

More>>