See the Back Story
Glendale FD: 4-year-old 'hero' saves grandmother from swarm of bees
Posted:
Updated: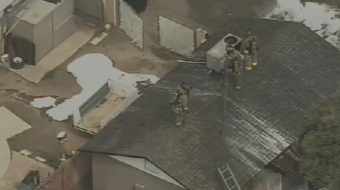 CBS 5 News chopper at the scene near 57th Avenue and Morten in Glendale.
GLENDALE, AZ (CBS5) -
A 4-year-old girl is being called a hero for pushing her 64-year-old grandmother's medic alert system inside the home and saving them both from a swarm of bees.
Cindy Chrisman said her daughter, Tiffany, was being watched over by her mother, Betty Gerard. Gerard was out in the backyard when a group of bees attacked her.
"My daughter came out to see what was wrong with her and my mom ushered her back into the house and threw a blanket over," Chrisman said.
Tiffany was stung twice and was able to call for help by contacting her grandmother's LifeAlert system.
"(LifeAlert) wasn't sure what it was. My 4-year-old was trying to tell them that there were bees everywhere. Lots of bees. Hundreds of bees is what she said to me," Chrisman said.

Glendale fire spokesman Michael Young said the young girl reached out for help about 9 a.m. Tuesday near 57th Avenue and Morten.
"The 4-year-old is definitely credited with saving her grandmother and she will be recognized by the Glendale Fire Department as a hero," Young said.
The girl and her grandmother were taken to the hospital and are expected to be fine.
Young said a neighbor is a beekeeper by trade.
"The bees are very large. They are very aggressive. It seems like anybody that comes outside their residence is being swarmed," Young said.
It's the neighbor's family business and when his backyard swarm first attacked, he refused to let officers inside his gates.
"Right now, the situation is very bad. We have located several hives at several residents on different streets in the general vicinity," Young said.
Then special foam was used to subdue and ultimately kill the angry bees.
"It's a shame to see them lose bees because we need bees, they are necessary, but something's got to be done," neighbor Ronald Morrison said.
Glendale police are now investigating whether the beekeeper committed some violation that allowed the bees to spread.
Tuesday evening, a spokesperson for Glendale police said the beekeeper could be facing fines for violating property laws as well as running a commercial business out of his home.
Stay with cbs5az.com and CBS 5 News for updates on this developing story.
Copyright 2012 CBS 5 (Meredith Corporation). All rights reserved.