Dirty Dining Aug 16: Worst offender has 8 health code violations
Posted:
Updated: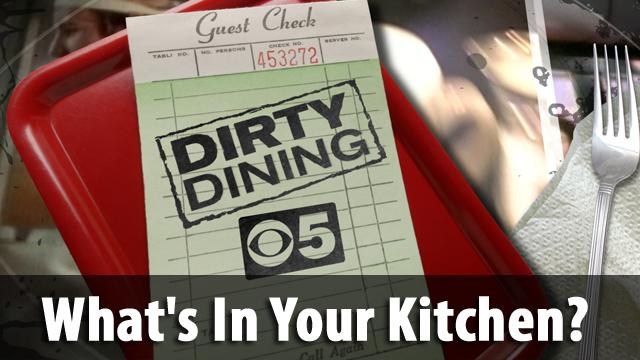 PHOENIX (CBS5) -
Every week CBS 5 News is sent a list of restaurants that have been recently inspected by Maricopa County's Environmental Services Dept. CBS 5 News selects five restaurants with some of the highest number of "Risk Factors." According to health inspectors, risk factors are considered major health code violations. For more details on the restaurant inspection scoring system visit http://www.maricopa.gov/
Broadway Gas Mart
1959 E. Broadway Rd.
Mesa
Five violations
Rollins Market
1090 W. 5th St.
Tempe
Six violations
New Asia Kitchen
4231 W. Bell Rd.
Phoenix
Six violations
Drury Inn & Suites
2335 W. Pinnacle Peak Rd.
Phoenix
Six violations
Friends Again
1028 E. Indian School Rd.
Phoenix
Eight violations
Dean's List – Those with perfect scores
Bill Johnson's Big Apple
16810 N. 19th Ave
Phoenix
Taco Bell
2030 N. Alma School Rd.
Chandler
Nino's Pizzeria
5800 W. Peoria Ave
Glendale
Boston Market
8001 N. 19th Ave
Phoenix

Cafe Lalibela
849 W. University Dr.
Tempe

Kiss the Cook
4915 W. Glendale Ave
Glendale

Copyright 2012 KPHO.Meredith Corporation. All rights reserved.