UPDATE
Motorists rescued from flooded Valley roads
Posted:
Updated: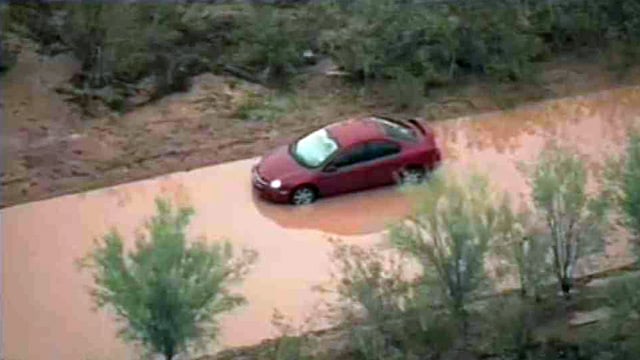 SURPRISE, AZ (CBS5) -
Monsoon rains flooded Valley roads and properties and forced the rescue of motorists from at least eight stranded vehicles in the West Valley late Thursday and early Friday.
A Surprise police sergeant said police and fire rescue personnel had been responding to flooding calls since just before midnight.
He said at least eight people had to be rescued from cars stranded in rushing waters near Avondale Lane and 173rd Avenue.
"There was a lot of rushing water, a lot of vehicles that were disabled," he told CBS 5 News on Friday morning.
Sgt. Mark Ortega, also of the Surprise Police Department, said a fire truck became stuck in one of the washes, emphasizing the need to be aware of how fast the waters can rise.
"The water looked like it was an inch deep and within seconds a wall of water came by," Ortega said. "It might not be raining right here, but water often comes from the north, where it is raining, and as it builds up, you could get another wave."
Ortega said air units were used in the dark to help locate stranded motorists. He said there were a lot of homes in rural areas reached only by unpaved roads and multiple washes that were running with water.
"It was a chore making sure we didn't miss anybody," Ortega said.
He said a few homes reported water up to their doors, but no expansive damage.
The flooding is not only an inconvenience for residents who can't reach or leave their homes, but is a safety hazard for travelers attempting to cross streets covered by water.
"If you see water rising above the tire level, it's time to stop and back up, or don't enter at all," Ortega said.
Rain will taper off Friday before kicking back up for the weekend, according to CBS 5 meteorologist Katie Baker. Some rainfall totals overnight:
Ahwatukee - 0.59 of an inch
Apache Junction - 0.08 of an inch
Gilbert - 0.17 of an inch
Glendale - 0.43 of an inch
Goodyear - 0.31 of an inch
Paradise Valley - 0.16 of an inch
Phoenix - 0.17 of an inch
Scottsdale - 0.24 of an inch
Wickenburg - 0.47 of an inch
Roads in the West Valley were sometimes completely covered in mud, and aerial shots of the area showed cars stuck in water. Floodwater also carried dangerous debris, such as rocks and limbs.
Ortega said motorists stranded in washes or roadways should call 911 if possible. If not, they should try to climb out and on top of their vehicles and stay there as long as possible until they can be rescued.
He said motorists should look for police or other emergency personnel to give them the go-ahead to cross roads affected by the floods, and to remember they could get stuck with the rescue bill under Arizona's "stupid motorists" law.
The city of Nogales reopened the city's main street, Grand Avenue, after flooding receded Friday afternoon. The city was distributing sandbags and planned to open a shelter if more rain comes. Some roads were also closed due to flooding in Standfield and San Manuel areas of Pinal County.[Click here for Maricopa County road closures.]
Stay with cbs5az.com and CBS 5 News as this story develops.
Copyright 2012 CBS 5 (Meredith Corporation). All rights reserved.
UPDATE

Motorists rescued from flooded Valley roads

More>>