AZ whooping cough cases seen rising
Posted:
Updated: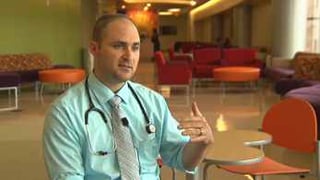 Dr. Dustin Moore
PHOENIX (CBS5) -
Arizona whooping cough cases more than doubled from state averages last year as the disease spreads at a rate not seen in some 50 years, doctors said.
In 2011, Arizona saw about 670 cases of whooping cough, also known as pertussis, compared to yearly averages of between 200 to 300 cases.
One baby in Maricopa County has died from the disease this year.
"We're seeing quite a few kids come in with these coughs," said Dr. Dustin Monroe, resident physician at Phoenix Children's Hospital. "We've identified many cases of pertussis recently."
Monroe said there are very good vaccines that treat the conditions, but more and more families are delaying or not receiving the full course of immunizations.
Whooping cough can easily spread from person to person. Infants make up many of the cases because they can't start the vaccine until they're 2 months old.
Natalie and Richie Norton said their 10-week-old baby Gavin died from the disease.
"Our son was too young to be vaccinated," Natalie Norton said. "It wasn't that we opted not to vaccinate him. Then he contracted pertussis. He would have received that vaccine at his next wellness baby check."
The CDC recommends that everyone over the age of 10 get vaccinated as well as get booster shots if they haven't already.
Copyright 2012 CBS 5 (Meredith Corporation). All rights reserved.