Undocumented immigrants say new program offers hope
Posted:
Updated: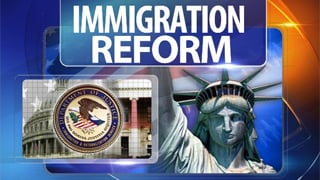 © CBS 5
PHOENIX (CBS5) -
More than 50,000 people now qualify to stay in the U.S. and contribute to the workforce.
The government's new deportation deferment program started Wednesday.
It's a controversial program that is offering a hope to thousands of undocumented immigrants across the country.
But many critics said it's just "backdoor amnesty."
To qualify, you must meet the following requirements.
Moved to the U.S. under the age of 16
Resided in the US for at least five years before today and live in the US currently
Enrolled in school, or have graduated from high school or obtained a GED or are honorably discharged veterans
Must be age 30 or under
"It's a great opportunity for me to contribute back to the country and use my degree," Andiola said as she was registering on Wednesday morning.
"This is an opportunity that we've been advocating for on the street," immigration attorney Jose Penalosa said.
Immigration attorneys said the new initiative has kept them busy informing potential qualifiers to know the program exists.
"Any young person that is eligible for this benefit this is the opportunity to apply for deferred action," Penalosa said.
One of the important pieces of advice attorneys have is to be organized with your documentation and don't give officials reason to deny a form.
"There's no rush to apply today," Penalosa said. "Things will happen and make sure you get your case well prepared and reviewed by an attorney."
Since this isn't law, but policy, there's a chance it may not be around after this year's election.
"I think it's going to generate the economy and I think Mr. Romney, looking at that objectively as a business person, might say 'I might not like the policy but I like the net affect,'" Penalosa said.
With any new program, there is also a fear of scams. That's why the best advice is to research reputable attorneys to help.
"Consult with an attorney, make that investment because you are investing in your life, your career and use a lot of caution," Penalosa said.
And that's exactly what the people CBS 5 spoke with were doing.
"People will know that I exist. I will no longer be in he shadows," Andiola said.
Copyright 2012 CBS 5 (Meredith Corporation). All rights reserved.