Rapper YG turns on crowd at Celebrity Theatre
Posted:
Updated: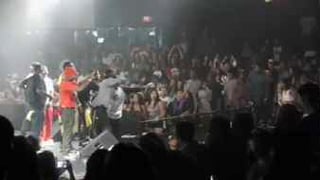 Courtesy of YouTube
PHOENIX (CBS5) -
Chaos broke out at a concert Friday in Phoenix at the Celebrity Theatre. Video posted on YouTube of the YG concert shows the rapper and his entourage turn on the crowd.
A man in the audience told CBS 5 that about a half dozen people near the stage started it all. Keith Dubose said they were throwing bottles and whatever else they could get their hands on.
"It was stuff flying everywhere," said DuBose.
What's even more alarming is that he said security did nothing to stop it.
"He did a couple of songs, but pretty much the entire time people were taunting him. One thing led to another and it just got really crazy," said DuBose.
Phoenix police said the hecklers weren't happy because YG was more than an hour late.
The video showed nearly five minutes of the audience and the artists going back and forth with each other.
At one point, a man wearing a staff shirt is seen just standing there while the melee continued behind him.
Trey Haskin, also known as T-Rex, opened the show. He knows firsthand how quickly a situation like this can escalate.
Haskin preformed at the Nipsey Hussel show in Tempe back in May. A dispute in the crowd ended with 14 people shot.
"He should have handled it better. The security should have been on top of it. They should have been over there immediately and just escorted that group of people out," said Haskin.
Nobody was seriously hurt during the concert.
CBS 5 contacted Celebrity Theatre to get an explanation for the way security handled the event. They sent us this statement that reads in part: "We always have a post show review of security handling of all situations. That process is currently ongoing. Safety of our guests is our utmost concern."
Copyright 2012 KPHO (Meredith Corporation). All rights reserved.