7 arrested in central Phoenix drug bust
Posted:
Updated: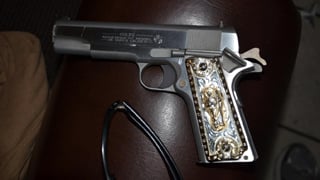 One of eight firearms seized
PHOENIX (CBS5) -
Seven suspected drug dealers were arrested Monday night in a central Phoenix drug bust, the Maricopa County Sheriff's Office said.
Acting on a confidential tip, sheriff's deputies obtained a search warrant on a home in the area of 35th Avenue and Camelback Road.
Deputies called in the sheriff's SWAT unit after they determined there was a high threat level.
SWAT officers busted down the door and were confronted by several suspects, most of them brandishing weapons, MCSO said.
No shots were fired and the seven suspects, who were all illegal immigrants, were taken into custody.
Deputies said they found and seized 200 pounds of marijuana, $1,000 in U.S. currency, some cocaine and eight firearms, one of which was a stolen handgun.
So far in 2012, sheriff's deputies have seized nearly 13,000 pounds of marijuana and arrested more than 100 illegal immigrants in multiple drug seizures.
Arpaio said he is in the process of launching a new street-level drug enforcement unit with the aim of reducing neighborhood drug trafficking throughout Maricopa County.
Copyright 2012 CBS 5 (Meredith Corporation). All rights reserved.