UPDATE
Immigrant students can now apply for new program
Posted:
Updated: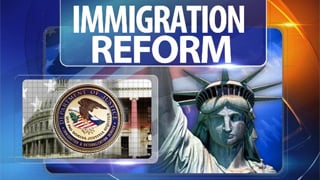 PHOENIX (CBS5) -
Undocumented immigrants brought to the states as children can apply Wednesday for a program that would let them avoid deportation and get a two-year work permit.
Interested people can get online now to get their applications in order for the program under a new policy change by the U.S. government.
U.S. Immigration and Citizenship Services started accepting the applications Wednesday.
As many as 1.7 million illegal immigrants who came to the U.S. as children might be eligible for the new program - up to 50,000 in Arizona alone.
"We're prepared. We're prepared for any volume that may come in and we're committed to doing this efficiently as well as to avoid and minimize any potential impact on other lines of business that are conducted by USCIS," said a senior administration adviser on Tuesday.
There is a $465 processing fee to cover the cost of the program. Applicants will have to send in three forms, the application for deferred deportation, another application for a two-year work permit, then a worksheet showing proof of financial need to work.
They are also required to submit proof of eligibility, that they are younger than 30, have lived in the U.S. for the last five years, and served in the military or have been a student here.
Proof can include school transcripts, medical and financial records, as well as military service records.
A senior administration official with USCIS said applicants should expect the process to take several months.
Anyone wanting to check the status of their application will be able to do so online at www.uscis.gov.
Once USCIS reviews applications for completeness, the agency will mail a receipt and request for fingerprints, subjecting the applicant to a thorough background check.
To be eligible, applicants cannot have any felony record or serious misdemeanors, or multiple misdemeanors.
Alejandro Mayorkas, director of USCIS, said anyone who engages in fraud in this process will bump up on the department's deportation priority list.
When asked if young people can get driver's licenses and resident tuition at in-state colleges, the official said, "Those are state questions and I'd refer you to the state agencies that handle those issues."
[Download list of acceptable documents; Visit the MVD website.]
The Arizona Department of Transportation issued the following statement:
"Because the U.S. Department of Homeland Security has just issued new guidance for the immigration process, the Arizona Department of Transportation is just beginning the process of reviewing and interpreting these guidelines. However, Arizona law requires proof of lawful presence to be in the United States to obtain an Arizona driver license or identification card. Acceptable documents include a driver's license from another state that also requires proof of lawful presence, a passport, an I-94 Form, a Permanent Resident/Resident Alien Card, or a U.S. Citizenship and Immigration Services Employment Authorization Document. Applicants must complete the immigration process and obtain the necessary documentation to demonstrate lawful presence before applying for an Arizona driver license or identification card."
CBS 5 News called state universities to ask whether these students will be eligible for resident tuition, as USCIS said that would also be a state decision.
If through the application process employers are found to be hiring illegal immigrants, those companies will still be subject to sanctions and/or prosecution, as per state and federal law, USCIS said.
Individual applicants who are turned down will not be pursued for deportation unless they meet a higher priority.
"We've been very clear about how we're utilizing our immigration enforcement resources, we have limited resources," the official said. "Those are focused on the identification and removal of folks who are a national security threat, recent border crossers and repeat immigration violators."
Copyright 2012 CBS 5 (Meredith Corporation). All rights reserved.
UPDATE

Immigrant students can now apply for new program

More>>