AZ poised to greet immigration change Wednesday
Posted:
Updated: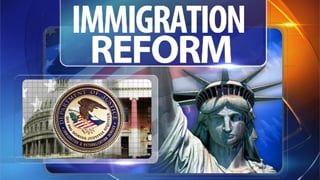 © CBS 5
PHOENIX (CBS5) -
A day before an estimated 40,000 to 50,000 illegal immigrants in Arizona will be able to apply for deferred deportation and work permits immigration and homeland security personal held a conference offering details of how they will implement the program.

This is a new policy Pres. Barack Obama announced that will be taking effect June 15. It allows certain young illegal immigrants to avoid deportation for up to two years, with extensions, and seek work permits. The policy mirrors the DREAM Act that failed to pass Congress.
Undocumented immigrant students under 30, who've lived in the states the past five years and were brought over when they were younger than 16, can apply - as long as they don't have a record.
Opponents call it "backdoor amnesty" but supporters say it's not immigration and green cards - it's a temporary policy change to recognize the scope of the nation's broken immigration system.
"It's very sad to see that Congress and politicians aren't willing to solve this problem," said Dulce Matuz, who came to America with her mother when she was only 15. "We cannot continue punishing children for something they didn't do."
Being "undocumented" is not just a tag for her on Facebook. Matuz, an ASU electrical engineering graduate, has become an advocate for DREAM Act students across the nation.
She's been arrested for the cause and has talked with Obama.
TIME magazine just named her one of the year's 100 most influential people.
"People tell me, 'Well, you're the exception, you can stay! But everyone else, they have to leave,'" Matuz said. "No, I'm just one story. There's many, many other exceptional DREAM Act students.
She said Wednesday's changes offering deferred deportation and two-year work permits is promising, but not permanent.
"It could be that there's a change in power in the White House and the next president decides to take this away," Matuz said.
Rep. Ben Quayle has 30 co-sponsors for his Prohibiting Backdoor Amnesty Act. He said the nation needs to secure the border first.
"The ICE folks are really upset about this and then we don't even really know where the funding's going to come from," he said.
Matuz said that's a cop out.
"We're here because we want to contribute to America."
Copyright 2012 CBS 5 (Meredith Corporation). All rights reserved.