First non-profit pub in U.S. set to open in Portland
Posted:
Updated: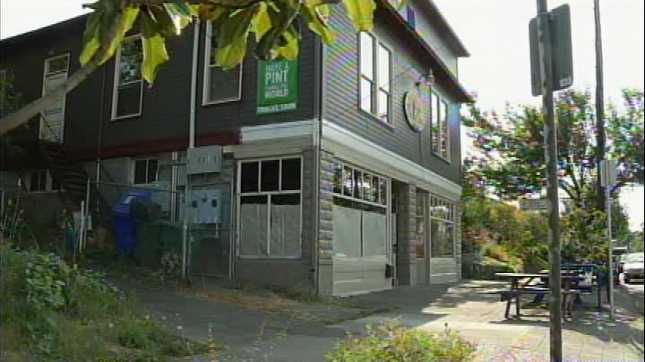 The first non-profit pub in the United States, maybe even the world, will be opening soon in Northeast Portland.
Once it does, its owner said the pub could funnel as much as $10,000 dollars each month into local charities and community organizations.
The pub will be called The Oregon Public House.
"We've set ourselves up in a unique way to become the fundraising department for various local charitable organizations," said Ryan Saari, who came up with the ambitious idea for the pub.
For the past year-and-a-half Saari has been renovating the downstairs portion of a 100-year-old building in the 700 block of Northeast Dekum Street. The upstairs is currently occupied by a ballroom that can be rented out for events.
"One hundred percent of everybody doing all the work in here has been volunteers," Saari said.
Saari is hoping to open the pub debt-free. All of the construction materials are donated and the renovation work is being done by a group of volunteers. If the pub is able to open without any debt, the money it raises can go to charities right away.
"We don't have this $100,000 loan in our back pocket that we have to worry about."
Customers will able to choose where they want the profit the pub makes on their purchase to go.
There will be a list of seven different local charities hanging above the bar for the customer to choose from.
"A lot of the charitable organizations in our community are hurting right now and they're hurting in one specific way and that is funding ," Saari said.
The pub will have a few paid employees like a manager and a chef. But Saari's goal is to rely mainly on volunteers to keep operating costs at a minimum.
After the pub opens, Saari plans to start fundraising to build an independent brewery so the pub won't have to purchase beer from other breweries.
Saari hopes his unique, non-profit business model can be a model for others to follow.
"I think it's a really fantastic idea! I think it will work in so many different businesses," he said.
Construction is about 90 percent complete and the pub could open as soon as this fall.
To learn more about how you can get involved in the project or donate to the pub, visit The Oregon Public House website at http://www.oregonpublichouse.com.
Copyright 2012 KPTV (Meredith Corporation). All rights reserved.