Missing Baby Gabriel's mom scolds judge in letter
Posted:
Updated: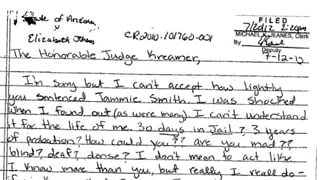 Elizabeth Johnson's letter to judge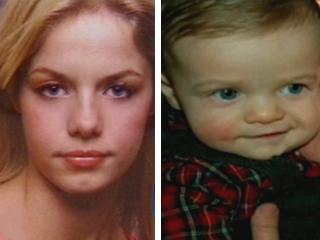 Elizabeth Johnson, Baby Gabriel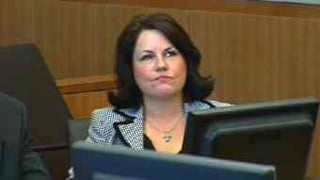 Tammi Smith
PHOENIX (CBS5) -
The mother of missing Baby Gabriel has lashed out at the presiding judge in her case in a two-page, handwritten letter dated July 12.
Six days earlier, the would-be adoptive mother of Baby Gabriel, 40-year-old Tammi Smith, was sentenced to 30 days in jail and three years of supervised probation for forgery and conspiracy to commit custodial interference in the Baby Gabriel case.
"I'm sorry but I can't accept how lightly you sentenced Tammie (Tammi) Smith," Elizabeth Johnson wrote to Superior Court Judge Joseph Kreamer. "I was shocked when I found out. I can't understand it for the life of me. Thirty days in jail? Three years of probation? How could you? Are you mad? Blind? Deaf? Dense?" [Click here to read the full letter (PDF)]
Smith could have faced one to 7 1/2 years in prison stemming from her May conviction of forgery and conspiracy to commit custodial interference.
Johnson claims in the letter that the judge is disrespecting her case and "disregarding the severity of it." She wrote, "It doesn't make any sense."
Gabriel was 8 months old when he was last seen in December 2009 in San Antonio. Johnson had said she killed Gabriel and dumped him in a trash bin, but later recanted and said she gave the baby to a couple in San Antonio.
"I ask you to step down and withdraw as my presiding judge over my case and trial," Johnson wrote in the letter.
She concluded by writing, "I'm just not the kind of person who can sit back and say nothing."
Johnson is charged with kidnapping, attempted custodial interference and custodial interference in the case of her missing son.
Copyright 2012 CBS 5 (Meredith Corporation). All rights reserved.